Renji Hospital International Clinic Earned DNV GL International Accreditation
A few days earlier, SJTU Affiliated Hospital International Clinic and Ottawa-Shanghai Joint School of Medicine OSJSM International Family Medicine Clinic (hereinafter referred to as International Clinic) earned the DNV GL international accreditation. The unveiling ceremony was held in the afternoon, April 12.
Norwegian Health Secretary Bent Høie, Norway Consul General to Shanghai Kristin Iglum, Deputy Director of Shanghai Municipal Commission of Health and Family Planning Wen Daxiang, President of Renji Hospital Li Weiping, Deputy Director Wang Yu, Deputy Director Mou Shan, President of DNV GL Greater China Kang Wenyu, General Manager of China Medical Bo Huijie, Chief Clinical Director of DNV GL Greater China Cathie Abrahamsen, the Norwegian Health Delegation, and about 100 representatives at home and abroad, who come from insurance companies and health administration institutes that cooperate with Renji Hospital, attended the ceremony, which was hosted by Deputy director Wang Yu.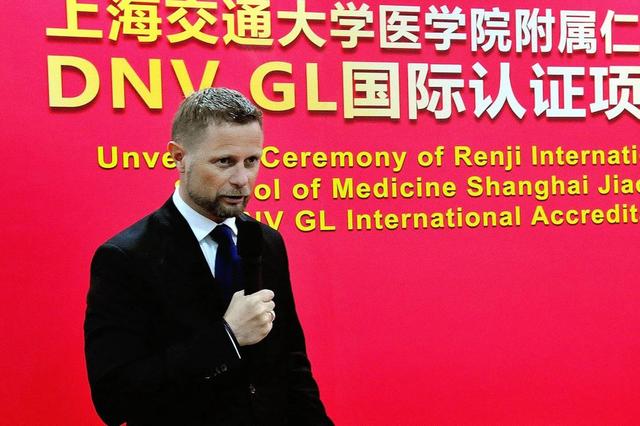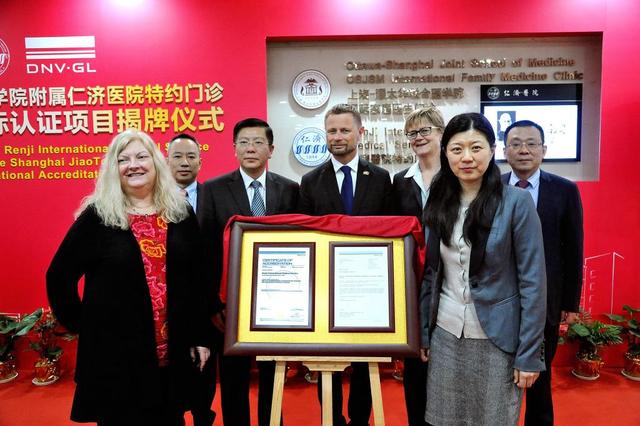 With the underway construction of a global city and Asian medical center, Shanghai has attracted more and more foreigners and also met their health management demand and medical demand.
At the unveiling ceremony, Li Weiping and Bent Høie exchanged their gifts. Bent Høie showed heart-felt congratulations on this international accreditation project and also presented the hope of more cooperation between China and Norway, in order to make more contributions to health and safety for the people in China and the world.
Translated by Huang Yiqing Reviewed by Wang Bingyu