Recently, The Third Global Education Innovation Conference "Reimagine Education 2016" and Award Ceremony, co-sponsored by the Wharton School at the University of Pennsylvania and International Association for the Evaluation of Education QS, were held in Philadelphia. The project "Curiosity-driven Initiative Learning" from Zhiyuan College at Shanghai Jiao Tong University won "Cultivating Curiosity Award"and "Natural Sciences Award". On behalf of Zhiyuan College, the Deputy Dean Wang Xiaofan accepted the award and delivered a speech at the conference.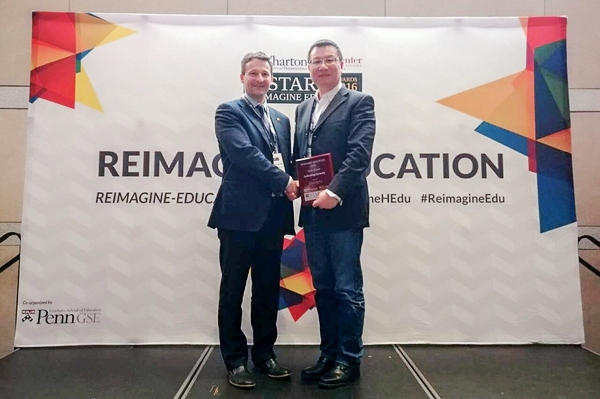 The Committee gave such comment to Zhiyuan College: " the mission of Zhiyuan College is to integrate the education concept of ' curiosity-driven learning ' into the education teaching practice that' how to promote the curiosity of students into the pursuit of learning and independent innovation activities', and to effectively stimulate students' curiosity, meanwhile, promote the curiosity into learning motivation and motivator in the process of students' self development. Zhiyuan College creates a favorable environment to cultivate students creative thinking and innovation ability."
The purpose of "Reimagine Education" Educational Innovation Award is to "reshape educational ideas and reform educational methods". It is expected to select the most innovative and effective worldwide teaching methods and techniques to promote students' learning and employment. So far, the Award has been held three sessions. This year, it has attracted worldwide attention. More than 500 universities or educational institutions, including Massachusetts Institute of Technology, Stanford University, Princeton University, London School of Economics and Political Science, participated in the contest. According to different themes, the Award sets up different types of Awards, including Cultivating Curiosity Awards, Best Education App Awards, Nurturing Employment Awards and Discipline Awards. Each project needs to choose one type of award.
"ZHIYUAN MODEL" has won a first prize of the National Teaching Achievement Prize in 2014, and in 2015, the 4th National Education Reform and Innovation Typical Case Award. This year, right before the National Day, John Hopcroft, chair professor of Zhiyuan College in computer science and a Turing Award winner, was awarded the Chinese government Friendship award, which further demonstrates that the international high education holds a positive attitude toward "ZHIYUAN MODEL".
---
Translated by Yue Jianfeng Reviewed by Wang Bingyu