JI Hosts NHSDLC's Shanghai Tournament
The 2014-15 Shanghai National Invitational Debate Tournament of the National High School Debate League of China (NHSDLC), hosted by SJTU, was held at the Joint Institute on November 22-23. Two hundred contestants representing 50 high schools from more than 20 cities participated in the tournament. NHSDLE founder Gavin Newton-Tanzer and Chairman David Weeks attended the opening ceremony.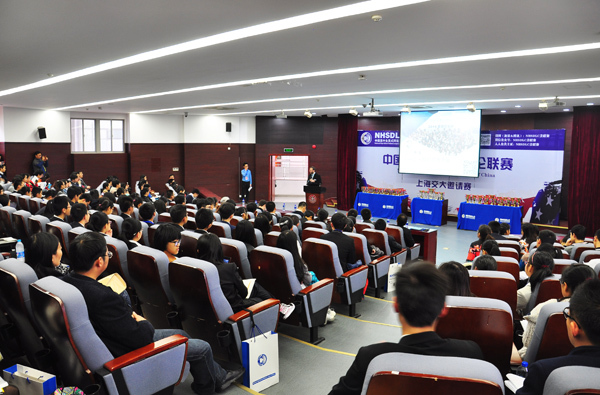 NHSDLC founder Gavin Newton-Tanzer giving opening address
In his opening address, JI Party Secretary Xinwan Li welcomed the contestants and congratulated on their achievement. He pointed out JI and NHSDLC share the same American ideas of training English proficiency, communication skills, teamwork, and critical thinking. He encouraged the students to join JI one day.
After one and half days of heated debates on "Resolved: A state's possession of nuclear weapons is immoral," the Experimental High School affiliated with Beijing Normal University snatched the championship. "This tournament is one of the most difficult tournaments of the season, and includes some of the top schools across China and features students from cities all across the nation. This overwhelming regional diversity reflects the very best of the NHSDLC," commented Gavin Newton-Tanzer.
NHSDLC is committed to training students' English skills, research capabilities, the abilities of reason and analysis, and critical thinking. All contestants are enthusiasts of debate and admirers of American-style thinking. This event was sponsored by Shanghai Jiao Tong University and the judges were selected from outstanding JI students with solid English skills and strong critical thinking. Apparently, the 100 participating teams will compete in a 5-day elimination round, and the national finalist will have the opportunity to attend Winter Harvard, Penn International Invitational, and the national championship tournament held in Beijing next August.
About NHSDLC:
When Gavin Newton-Tanzer and David Weeks came to China to explore international education 4 years ago, they noticed a sharp contrast between the Chinese and the American educations: The Chinese students spend most of the time in the classrooms while the American students are engaged in a rich array of extracurricular activities, among which debate teams are very popular. As debate veterans, Gavin and David were inspired to import the American debate to Chinese high schools. In 2011, the National High School Debate League of China (NHSDLD) was founded and has become a channel for Chinese high school kids to learn English, express themselves, and study abroad. The debate tournament ecosystem consists of regional competitions hosted by regional partners, invitational tournaments hosted by universities, and a national championship tournament. NHSDLC's partners include the debate associations of Yale, Penn, and Harvard, as well as Peking University and Shanghai Jiao Tong University. NHSDLC hold regional debate tournaments in 30 cities across China every year and offer free in-person training to more than 150 high schools. More than 12,000 high school students have been benefited.
Source: UM-SJTU Joint Institute