Jiaotong University Alumni Association for Entrepreneur in Sichuan Founded
On the morning of Oct. 10, inauguration Ceremony of Sichuan Siyuan Economy and Information Promotion Center & Jiaotong University Alumni Association of Entrepreneurs in Sichuan was held in Wufu Hall of Wangjiang Hotel in Chengdu. President of Southwest Jiaotong University Xu Fei, Vice President Pu Yun, Vice President of Beijing Jiaotong University Chen Feng, Director of Division of Development & Liaison, Shanghai Jiaotong University Ma Lei, Department of Development for Alumni Relations in Southwest Jiaotong University Zhou Gang, Chairperson of Jiaotong University Alumni Association in Sichuan Niu Xiaoming, Chairperson of Sichuan Association of Senior Scientists and Technicians as well as former Vice Director of Sichuan Provincial People's Congress Zhang Zongyuan, former Vice Chairperson of the CPPCC Sichuan Provincial Committee as well as former Chairperson of Sichuan Federation of Industry & Commerce He Zhiyao, former Vice Chairman of Sichuan Federation of Industry &Commerce Qian Weidong, former Director of Sichuan Provincial Bureau of Quality Supervision Han Ruli, Vice Chairperson of Sichuan Federation of Industry &Commerce as well as President of South China Information Co., Ltd. Chen Bo, Deputy Director of Administration & Approvals of Sichuan Civil Affairs Department Feng Kun, Monitor o Sichuan Economic and Information Technology Commission Zhang Derun, Vice Chairperson of Chengdu Municipal Committee of CPPCC Luo Xia and entrepreneur alumni in Sichuan attended the ceremony.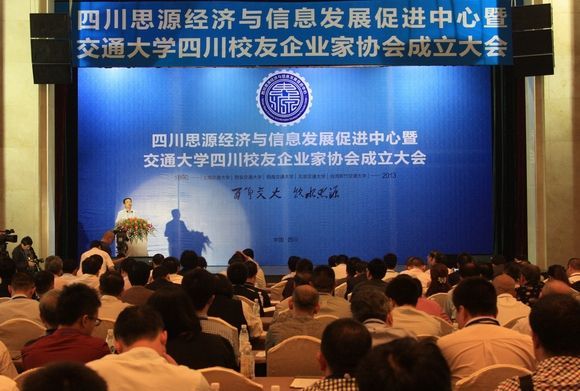 Xu Fei, Chen Feng, Ma Lei and Zhou Gang addressed the ceremony respectively, in which they looked ahead into the blueprint of Siyuan Center and Alumni Association of Entrepreneurs.
Guests from Alumni Association in Yunnan, Jiangxi, Tangshan, Guangzhou, Guangxi, Chongqing, Hubei and Guizhou and representatives from Alumni Associations of Peking University, Tsinghua University, Harbin Institute of Technology, Tianjin University, University of Science and Technology of China participated in the meeting.
---
Translated by Hu Liming Reviewed by Wang Bingyu