The St. Olaf Orchestra Concert Held at SJTU
The St. Olaf Orchestra Concert, one of the most important events of SJTU International Collegiate Culture and Arts Festival, was held at Jing Jing Auditorium on the evening of May 31. The Orchestra enjoys a high reputation in the US and even the world.
At 19:00 pm sharp, the performance started. SJTU Orchestra performed first and brought the audience "Leichte Kavallerie" and violin concerto "Butterfly Lovers" with Chinese characteristics and the magnificent theme song "Pirates of the Caribbean", a way to welcome the St. Olaf Orchestra.
After SJTU Vice President Xu Fei and the Conductor Mr. Steven Amundson exchanged friendship gifts, the St. Olaf Orchestra performed a work composed by Bernstein-"The Honest Man Overture" with a strong American style.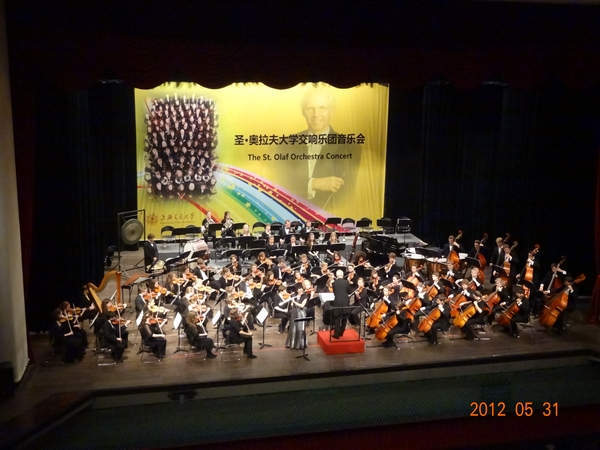 The St. Olaf Orchestra was originated in 1906 by Norwegian violinist F. Melius Christiansen. Since 1949, the orchestra has toured the USA and Europe annually.
The Conductor Mr. Steven Amundson has been professor at St. Olaf College and the St. Olaf Orchestra conductor for 29 years. This time he visited SJTU with five symphonies. Apart from the opening performing of "The Honest Man Overture", the orchestra, together with the invited flutist Catherine Ramirez, performed two flute-dominated symphonies. The soloist, with outstanding playing techniques and brilliant rhythm techniques, made timbres of harmony and balance and performed the two symphonies elegantly, accurately and thoroughly in every aspect.
The St. Olaf Orchestra also performed a Chinese symphony "Yao Dance" wonderfully. When the orchestra completed the entire designated repertoire, an encore came with the audience's passionate applause, showing their infinite joy in the afterhearing.
The performance of the St. Olaf Orchestra not only touched the heart of the audience but also struck a chord with the SJTU Orchestra students. One student surnamed Zhou said, "Their music is flowing." The pure music helped audience taste the harmony of sound and rhythm, feel the depth of history, and savor the goodness and beauty of humanity-that is the true essence of symphony.
---
Translated by Li Jing | Reviewed by
Tian Cong