TDLI Director Prof Frank Wilczek Speaks at NO.150 Master Distinguished Lecture
On the evening of 14 May, Frank Wilczek, the 2004 Nobel laureate in physics and the Director of Tsung-Dao Lee Institute (TDLI), Shanghai Jiao Tong University delivered an online live talk themed Quanta of the Third Kind: Anyons to a wide variety of faculty and students as the 150th Master Distinguished Lecture, Shanghai Jiao Tong University. The live session was moderated by Professor Wei Ku, TDLI Deputy Director.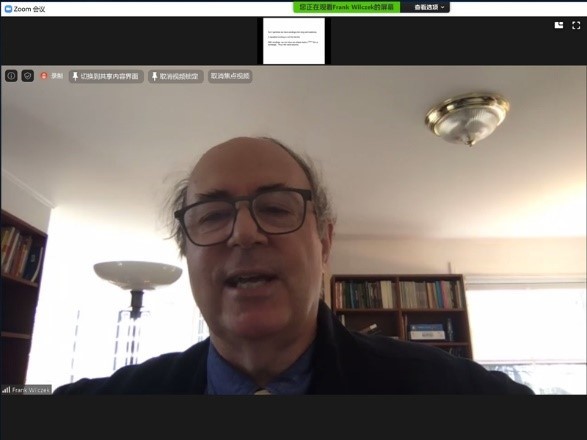 Professor Wilczek started from fermions and bosons, two grounding concepts in quantum particles commonly defined in the textbook of quantum mechanics. Fermions follow the well-known Pauli exclusion principle, that is, two fermions cannot occupy the same quantum state within a quantum system simultaneously; bosons, on the contrary, can occupy the same quantum state. The reason behind this phenomenon is the spin quantum number of fermions is a half-integer and the spin quantum number of bosons is an integer. Any exceptions? Professor Wilczek has been working on the following theory since the 1980s: In the two-dimensional system, there is a third type of quantum particles, whose spin quantum number is neither an integer nor a half-integer, but any value and this new Quantum particle are named anyons.
Professor Wilczek then elaborated on experimental progress: one is Professor Pan Jianwei at the University of Science and Technology of China. Profess Pan's team produced arbitrary excitation in a superconducting circuit composed of four qubits in 2016. The other noteworthy work is this year's April publication featured in Science magazine by the researchers from Université de Paris, Centre national de la recherche Scientifique (CNRS), and École normale supérieure de Rennes, which expounded the observational evidence of anyons. In addition, Wilczek also drew upon the significant prospects for further application. The braiding-like skills to manipulate quantum states has become one of the trending topics in quantum physics research.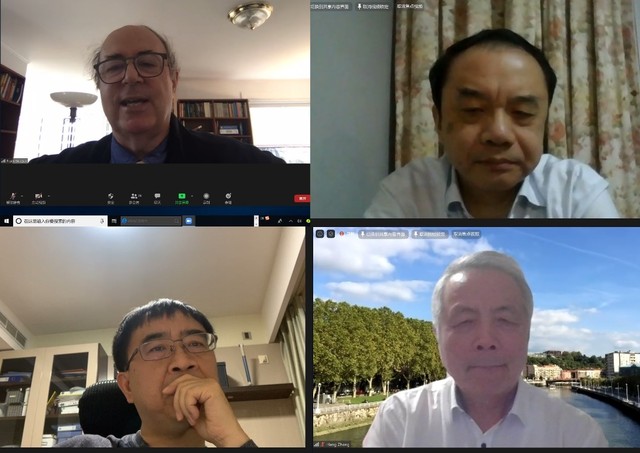 Four distinguished guests were invited: Professor Pan Jianwei at the University of Science and Technology of China, Professor Wang Yifang at the Institute of High Energy Physics, Chinese Academy of Sciences, Professor Zheng Hang of School at the School of Physics and Astronomy, Shanghai Jiao Tong University, and Professor Daniel Arovas at the University of California, San Diego. Professor Wilczek also had a lively exchange of ideas on cutting-edge research and future applications with participants on in the follow-up session.
In the Q&A session, Professor Wilczek explained the relationship between the properties of anyonic statistics and offered his inspiring thoughts to early-career researchers based on his own experience to push the boundaries and rekindle innovation in light of unending enthusiasm in the exploration of the unknown.
Among the participants, there are researchers from world-leading universities and research institutions such as MIT, Nordic Institute of Theoretical Physics, and Stockholm University. Echoing the spirit of resource-sharing and mutual learning, the online seminar invites a wide variety of audiences across a wider spectrum as compared with previous in-person sessions. More than 4,000 participants attended this online session via Classin and Kouxiang, two academic streaming platforms. This online lecture also provides new inputs to TDLI's efforts to increase its global presence. Recently, at the meeting of all TDLI faculty and staff, Professor Wilczek mentioned that he almost finished his new book during this special period, and encouraged all members of TDLI family to keep up the good work and make meaningful contributions to the TDLI's greater good.