【SJTU Wisdom】Great Progress in China S.argenteus Identification by SJTU Team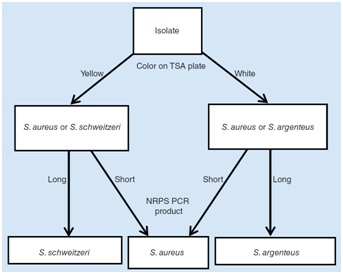 Recently, Future Medicine indexed journal Future Microbiology published the latest research findings of professor Mingxian Shi team from School of Agriculture and Biology of SJTU, with the name of "Identification of Staphylococcus argenteus in Eastern China based on a nonribosomal peptide synthetase (NRPS) gene". Dr. Daofeng Zhang is the first author while the corresponding author is Mingxian Shi. The article first reported the presence and underreporting of Staphylococcus argenteus in China.
A PCR-based method targeting the hypothetical NRPS gene was developed to differentiate S. argenteus from S. aureus, which successfully identified strains of S. argenteus from a large collection of presumptive S. aureus isolates.This procedure supplied a simplified way for identification and differentiation among these three species comparing to MLST used previously.
---
Translated by: Liu Yiting