SJTU & University of Adelaide Signed Agreement on Dual Master Program
On the afternoon of July 13rd, 2018, Lin Zhongqin, President of Shanghai Jiao Tong University and Peter Rathjen, President of the University of Adelaide, signed an agreement on dual master of agriculture (viticulture and oenology). Xue Hongwei, Dean of the School of Agriculture and Biology, Nancy Cromar, Vice President of University of Adelaide, as witnesses to the agreement, participated in the signing ceremony. Professor Joy Rathjjen, the wife of the President of the University of Adelaide, Glen Stafford, Director of the International Strategy Division, Guo Liang, Deputy Director of the International Cooperation and Exchange Department of Shanghai Jiao Tong University, Li Weidong, Vice President of the Institute of Science and Technology Development, and Professor Lu Jiang, attended the meeting witnessed the signing ceremony.
Lin Zhongqin expressed his wish for both sides to take the training program as an opportunity to jointly cultivate high-level and international agricultural talents, and further promote the cooperation between teachers through the joint training of students.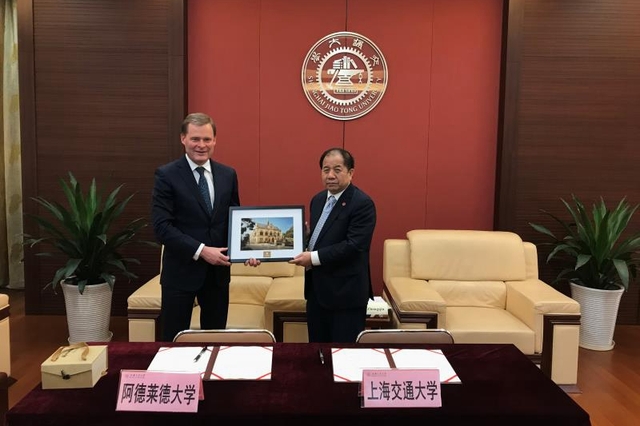 The University of Adelaide is one of the prestigious university of Australian Ivy League. It has been evaluated as a five-star university in Australia and one of the top 100 universities in the world. Its oenology and viticulture major ranks first in Australia and has a world-renowned team of experts and professors in the field of wine growing and processing.
Translated by Zhu Fengyan Reviewed by Wang Bingyu