SJTU Team Reveal the Formation Mechanism of Instinctive Fear in Early Brain Development
On March 24, the research group of Xu Nanjie who is from Department of Anatomy and Histology & Embryology of Shanghai Jiao Tong University School of Medicine and the team of Dr. Sun Suya who is from Department of Neurology of Ruijin Hospital,SJTUSM published a research paper called Ephrin-B3 coordinates timed axon targeting and amygdala spinogenesis for innate fear behaviour on Nature Communications (influence factor 11.4) and made explanations for this. The research suggested that molecular ephrin-B3 guided neuron to form pathway between hippocampus and amygdala of the brain, thus forming nerve loop of instinctive fear in early period of brain development after one's birth.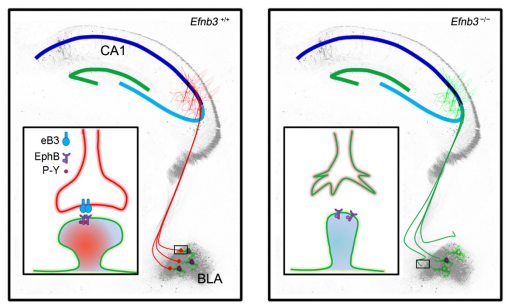 This study made clear that how molecular ephrin-B3 enter into amygdala as leading ligand and form the mechanism of neural circuits, bringing scientific understanding of the trigger of instinctive fear. In the future, the research group will continue the research on this way, getting further information about how the molecular affect function and activity of neuron. In other words, the research group will conduct deeper exploration of the regulation and operation of fear to know its influence on human daily behavior through studying fear mechanism and to find scientific explanations for disorders and pathologic abnormality of mantal behavior while searching its possible treatment strategies.
---
Translated by Wang Jiayu Reviewed by Wang Bingyu