SJTU Team Published Paper On Vascular Remodeling in National Science Review
Recently, the team of the Institute of Mechanobiology of the School of Life Sciences and Biotechnology of Shanghai Jiao Tong University published a review paper titled Mechanobiology in vascular remodeling in the "National Science Review". The paper focuses on the results of the team's research on vascular mechanobiology in recent years, and describes the latest domestic and international research progress on the mechanical stress response of vascular cells, the vascular mechanical signal transduction network based on high-throughput biotechnology and the mechanical regulation of non-coding RNA in vascular reconstruction, and summarizes related mechanisms of mechanical factors affecting revascularization (as shown in the picture). Han Yue, PhD, is listed as the first author and Professor Jiang Zonglai as the corresponding author.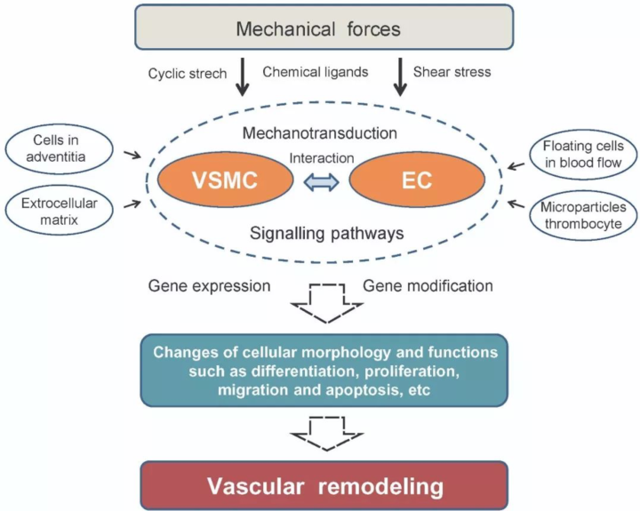 Mechanobiology is a new interdisciplinary field of biomechanics. It is to study the mechanical signal sensing and response mechanism of organisms, clarify the relationship between the mechanical and biological processes of organisms, and develop new curative and diagnostic techniques so as to forward the development of biomedicine.
Abstract
Vascular remodeling is a common pathological process in cardiovascular diseases and includes changes in cell proliferation, apoptosis and differentiation as well as vascular homeostasis. Mechanical stresses, such as shear stress and cyclic stretch, play an important role in vascular remodeling. Vascular cells can sense the mechanical factors through cell membrane proteins, cytoskeletons and nuclear envelope proteins to initiate mechanotransduction, which involves intercellular signaling, gene expression, and protein expression to result in functional regulations. Non-coding RNAs, including microRNAs and long non-coding RNAs, are involved in the regulation of vascular remodeling processes. Mechanotransduction triggers a cascade reaction process through a complicated signaling network in cells. High-throughput technologies in combination with functional studies targeting some key hubs and bridging nodes of the network can enable the prioritization of potential targets for subsequent investigations of clinical translation. Vascular mechanobiology, as a new frontier field of biomechanics, searches for principles of stress-growth in vasculature to elucidate how mechanical factors induce biological effects that lead to vascular remodeling, with the goal of understanding the mechanical basis of the pathological mechanism of cardiovascular diseases at the cellular and molecular levels. Vascular mechanobiology will play a unique role in solving the key scientific problems of human physiology and disease, as well as generating important theoretical and clinical results.
Read the article: https://doi.org/10.1093/nsr/nwx153
Translated by Iga Kowalewska Reviewed by Wang Bingyu