SJTU Team Made Breakthrough in the Research of Synthesis of Plant Natural Products by CO2
More than 100 years ago, the father of photochemistry Giacomo Ciamician put forward that real green synthesis is producing chemicals with the way of plants. However, it has puzzled academic community many years how to realize the green synthesis especially that of plant natural products. Recently, team of Xu Ping from School of Life Sciences & Biotechnology, SJTU and State Key Laboratory of Microbial Metabolism made breakthrough in in the research of synthesis of plant natural products by CO2. Chemistry World, a famous magazine of the Royal Society of Chemistry, reported this pioneering research with "Bacteria seeded with synthetic pathways" as the title.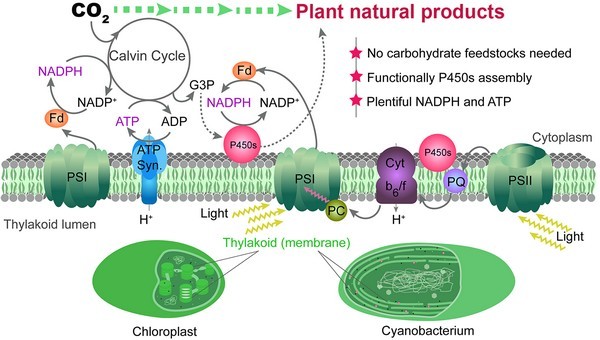 Nowadays, the biggest challenge is to extract products in liquid to the amount of industrial grade. In the following research, only if the amount of those products is raised to the level of gram per little, commercial production can be successfully conducted, thus bringing huge economic, social and environmental benefits. The study is finished by postdoctor Ni Jun, associate research fellow Tao Fei and other collaborators. (http://pubs.rsc.org/en/content/articlehtml/2016/gc/c6gc00317f). It is another breakthrough that the team of professor Xu Ping has made in the research of the use of carbon dioxide photoautotrophy chemicals after producing C3 platform compounds(Green Chemistry, 2015, 17, 3100-3110)and lactic acid (Scientific Reports, 2015, 5:09777) last year.
---
Translated by Wang Jiayu Reviewed by Wang Bingyu