SJTU Team Co-found the Epigenetic Mechanisms of Mental Retardation
On January 9th 2018, the world-famous journal the Nature Communications published online "Histone demethylase PHF8 deficiency causes cognitive impairments through the mTOR pathway", which is the joint research outcome of Li Weidong Lab from Shanghai Jiao Tong University (SJTU) Bio-X Research Academy and Brain Science and Technology Center, as well as Chen Degui Lab from Biochemical Cell Institute of Chinese Academy of Sciences (CAS). The research results indicate that loss of Phf8 in animals causes deficient learning and memory by epigenetic disruption of mTOR signaling, and provides a potential therapeutic drug target to treat XLID.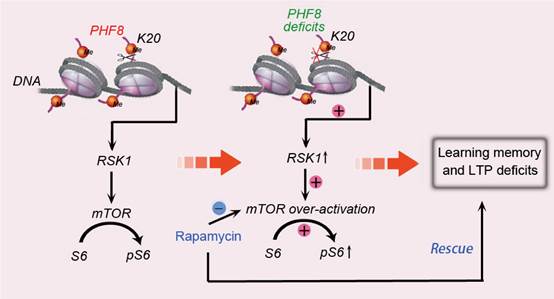 SJTU researcher Li Weidong and researcher Chen Degui from Shanghai Institute of Biochemistry and Cell Biology, CAS were co-correspondent authors of this article, and Chen Xuemei, Wang Shuai, Zhou Ying, Han Yanfei and Li Shengtian are first authors. This research was supported by China Major Instrument Funds, 973 Scheme, Science Fund Committee, CAS Pilot Scheme, Shanghai Oriental Scholar Track Scheme, and Shanghai Excellent Academic Leaders.
Translated by Zhang Yifan Reviewed by Wang Bingyu