SJTU Students Won Champion of 21st Century NESC
The semifinal and final of 21st China Daily "21st Century·Coca-Cola Cup" National English Speaking Competition" was held in Beijing Foreign Studies University from March 18 to March 20. The competition was launched since last May. After a series of competitions from 20 national divisions, 67 topnotch players stood out from 100,000 contestants. After 3 days of fierce competition, 1 champion, 1 first runner-up and 1 second runner-up and the first, the second and the third prize finally came out. Zhu Xue, a sophomore from Shanghai Jiao Tong University School of Medicine, guided by teacher Dai Rongrong from School of Foreign Languages was awarded the national champion and "Navitas Most Confident Speaker", and Dai Rongrong was awarded the champion instructor award.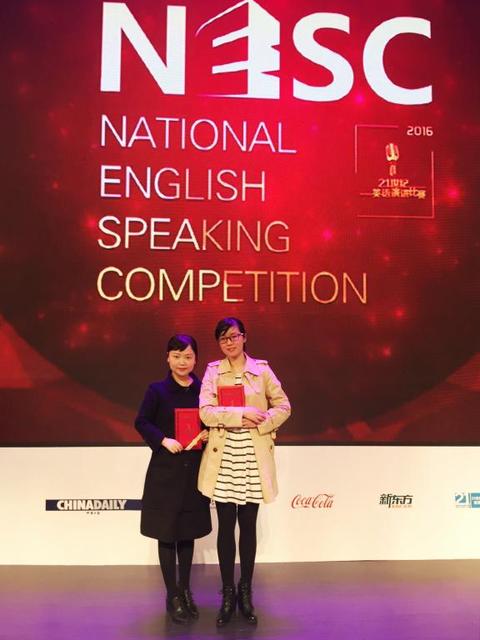 The topic of the speech in the final was "The world is too much with us" which was selected from poems of William Wordsworth, a British romantic poet in the 19th century. Based on "to cure sometimes, to relieve often, to comfort always", a motto well known by medical students, Zhu Xue illustrated that doctors should not only focus on the disease itself, but also should ponder how to improve patients' life quality while respecting their will and defending their dignity.
China Daily "21st century" National English Speaking Competition is hosted by China Daily and is organized by 21st Century English Education Media. The competition is well known for its high quality academic level. Institutions such as the English Speaking Union , TESOL International Association, Educational Testing Service, Australia Novitas Education Group, Hong Kong University of Science and Technology, Macao Polytechnic Institute joined the competition as co-organizers. English experts from English Speaking Union, Ministry of Foreign Affairs, Cultural and Education Section British Embassy, renowned universities in Chinese mainland, Hongkong, Macao, the United States, Korea and Thiland and China Daily constituted powerful judges of this competition.
---
Translated by Wang Jiayu Reviewed by Wang Bingyu