SJTU Leaders Conducts Site Inspection in Panzhihua
On April 18, 2018, Wu Dan, Standing Committee Member of the Party Committee and Vice President of Shanghai Jiao Tong University, conducted a site inspection of the Large Scale Heliox Diving Operation Project of SJTU Underwater Engineering Institute in Panzhihua. Following the inspection of the operation site, Wu and his colleagues also visited the the Datang Guanyinyan Hydropower Station where the project is located and made exchanges with the leaders of the station. The main contractor of the project is Kunming Engineering Corporation Ltd, and the SJTU Underwater Engineering Institute provides technical support for the great-depth heliox diving.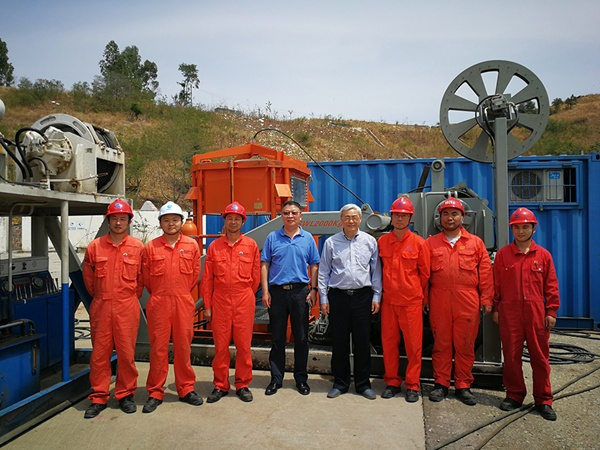 The underwater construction project of Guanyinyan Hydropower Station, following the high-altitude and great-depth mixed-gas diving underwater detection project at Tibet Zangmu Hydropower Station and the mixed-gas diving underwater salvage project at Sichuan Pubugou Hydropower Station, is a technical fruit of years of studies on the diving technology and a fresh application in the engineering practice.
At the inspection site, Wu emphasized that the enormous productivity of science and technology could not be truly tapped unless applied in the market He expected the Underwater Engineering Institute to better meet the market demand and further improve the construction of the platform, so as to bring more and better scientific and technological achievements to the society. Wu also expressed his sincere sympathy to the front-line engineering staff. All the project staff responded that they had both the determination and confidence in expanding the deep submarine technology in China's water conservancy industry to prosper the development of the Underwater Engineering Institute.
Translated by Zhu Fengyan Reviewed by Wang Bingyu