SJTU "Jiaolong" Robot Displayed at 11th Five-year Plan Major Achievement Exhibition
On March 8, the Exhibition of National Major Science and Technology Achievements during the "11th Five-Year" was held in Beijing, jointly organized by Ministry of Science and Technology, the Organizing Department of CCCPC, the National Development and Reform Commission, the Ministry of Finance, and the General Reserve Department of PLA. At the exhibition, the service robot "Jiaolong" invented by SJTU made a striking appearance as an outstanding achievement in advanced manufacturing technology of the National Program 863.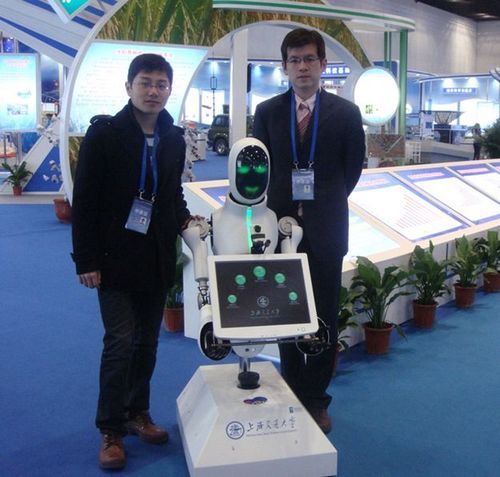 During the 11th Five-Year Plan period, SJTU Professor Chen Weidong undertook "Researching and Developing the Robot Concept Prototype for Senior or Disabled People", a key project of the National Program 863. Based on the project achievement and manufactured by joint parties, the SJTU "Jiaolong" Robot is a newly-developed robot system which meets the diverse needs of family and nursing home care, exhibition guiding and shopping guiding, etc.
The SJTU team for the exhibition was led by Wang Jingchuan from Department of Automation. During the exhibition, SJTU "Jiaolong" Robot made a wonderful service performance and was also reported by CCTV, Xinhua Net and other media.
---
Translated by Chen Yanzi | Reviewed by Tian Cong