SJTU and University of Edinburgh Sign Memorandum of Cooperation
On December 10, Huang Zhen, Vice-President of SJTU, and Charlie Jeffery, Deputy President of University of Edinburgh Signed Memorandum of Cooperation in Research and Teaching. According to this Memorandum, the cooperation between both sides in research and teaching will be established among School of Environmental Science & Engineering, SJTU and School of GeoScience, University of Edinburgh as well as Low-carbon Innovation Center, including exchanges of teachers and postgraduates, joint training of students and joint summer school.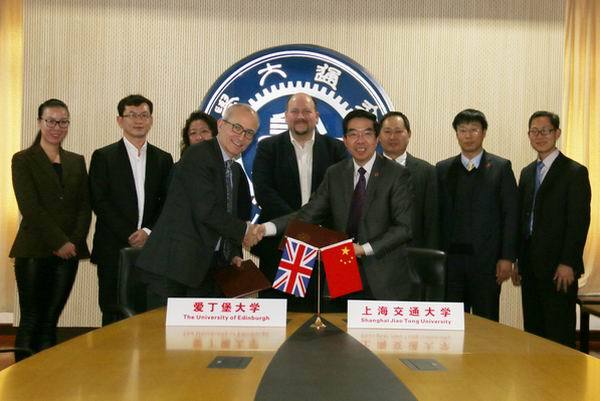 Charlie Jeffery said that he hoped substantive cooperation in Carbon Management and Carbon Capture can be carried out between University of Edinburg and SJTU. SJTU showed its great interest in this cooperation and proposed that this cooperation could begin with bilateral exchanges so as to promote the communication of bilateral researchers. Based on this, other cooperation such as DDIM could also be carried out. Both parties show their confidence for the future of this cooperation.
Relevant officials from School of Environmental Science & Engineering, SJTU, School of International and Public Affairs, SJTU and International Communication and Cooperation, SJTU attended this reception.
University of Edinburgh, one of the top universities in the world, was established in 1583 and located in the city of Edinburgh, the capital of Scotland. This University has cultivated many great talents, including 21 Nobel Laureates, 2 Turing Award winners, 1 Abel Prize winner, 1 Fields Medal winner, 1 Pulitzer winner, 3 Prime Ministers of UK, 4 Presidents and 2 Prime Ministers. In addition, University of Edinburgh is also a member of Russell Group and Universities 21.
---
Translated by Li Ying Reviewed by Wang Bingyu