【School Report】Delegation from University of Adelaide Visited SCCE
On August 21st, 2018, the delegation from the University of Adelaide visited the School of Chemistry and Chemical Engineering, and discussed the possibility of cooperation in research and education with professors of SCCE and other schools.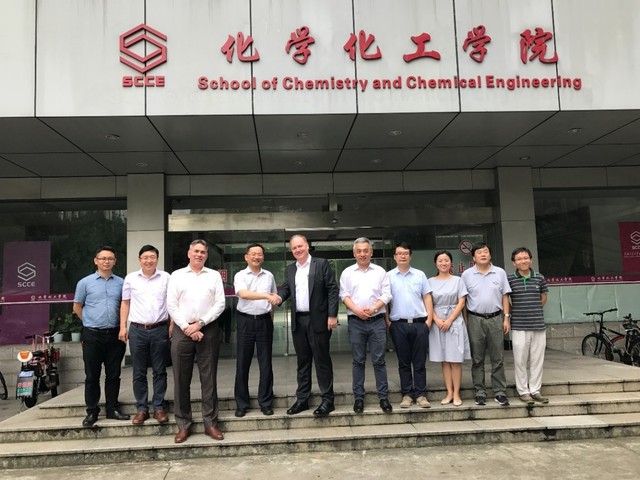 The delegation is composed of Prof. Anton Middelberg, executive dean of the Faculty of Engineering, Computer and Mathematical Sciences (FECMS), Prof. Shizhang Qiao, chair professor of the School of Chemical Engineering (SCE) and Associate Editor of Journal of Materials Chemistry A, Prof. David Lewis from SCE , Prof. Zonghan Xie, associate dean (International) of FECMS, Dr Boyin Ding, endeavour research fellow at the University of Adelaide, attended the meeting. Prof. Xinyuan Zhu, dean of SCCE and executive vice dean of the Office of Research Management, Prof. Sixun Zheng, vice dean of SCCE, Prof. Fan Zhang, PI of the Institute of Advanced Organic Materials, Prof. Xiaodong Zhuang, PI of the Soft 2D Materials Lab, Prof. Jiajun Gu from the State Key Lab of Metal Matrix Composites and Dr. Dong Xue from China-UK Low Carbon College attended the meeting.
During the meeting, both sides introduced the features of their schools and state key laboratories, had in-depth discussion on collaboration modes and set up communication channels for further cooperation.
After the meeting, the delegation visited the State Key Lab of Ocean Engineering and the State Key Lab of Metal Matrix Composites, received by Prof. Ye Li and Prof. Jiajun Gu respectively.
The University of Adelaide, located in Adelaide, South Australia, is one of Group of Eight in Australia, and is associated with five Nobel laureates and 110 Rhodes scholars. Adelaide is one the partner universities of Shanghai Jiao Tong University.
Source: School of Chemistry and Chemical Engineering
Translator: Chenyun SUN
Reviser: Xiaoke HU