Research Group from School of Medicine Published a Paper in the Nucleic Acids Research
The Research Group , which is led by Yu Jianxiu, has published online in the internationally-renowned scholarly journal Nucleic Acids Research a paper titled "SUMOylation of the m6A-RNA methyltransferase METTL3 modulates its function". This research has firstly revealed a new molecular mechanism for SUMOylation modulating the catalytic function of key enzyme METTL3 in m6A RNA methyltransferase activity.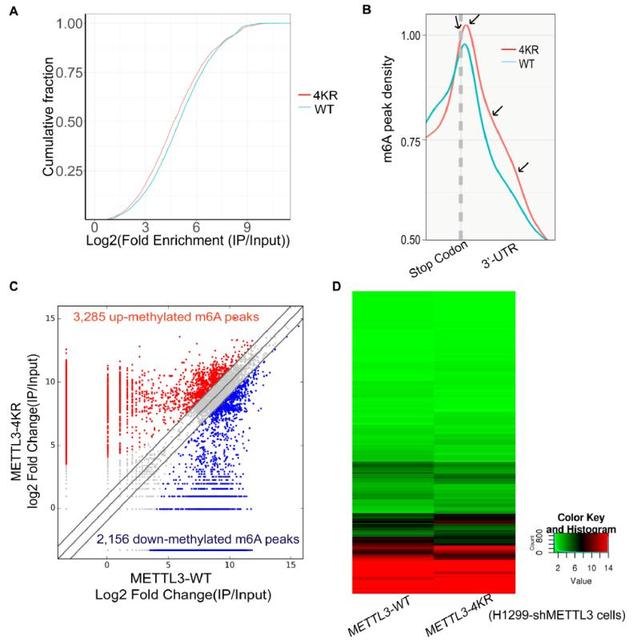 The methyltransferase like 3 (METTL3) is a key component of the large N6-adenosine-methyltransferase complex in mammalian responsible for N6-methyladenosine (m6A) modification in diverse RNAs including mRNA, tRNA, rRNA, small nuclear RNA, microRNA precursor and long non-coding RNA. However, the characteristics of METTL3 in activation and post-translational modification (PTM) is seldom understood. Here we find that METTL3 is modified by SUMO1 mainly at lysine residues K177, K211, K212 and K215, which can be reduced by an SUMO1-specific protease SENP1. SUMOylation of METTL3 does not alter its stability, localization and interaction with METTL14 and WTAP, but significantly represses its m6A methytransferase activity resulting in the decrease of m6A levels in mRNAs. Consistently with this, the abundance of m6A in mRNAs is increased with re-expression of the mutant METTL3-4KR compared to that of wild-type METTL3 in human non-small cell lung carcinoma (NSCLC) cell line H1299-shMETTL3, in which endogenous METTL3 was knockdown. The alternation of m6A in mRNAs and subsequently change of gene expression profiles, which are mediated by SUMOylation of METTL3, may directly influence the soft-agar colony formation and xenografted tumor growth of H1299 cells. Our results uncover an important mechanism for SUMOylation of METTL3 regulating its m6A RNA methyltransferase activity.
The researcher Yu Jianxiu from the Department of Biochemistry and Molecular Biology, School of Medicine, Shanghai Jiao Tong University and the post-doctor Zhao Xian are co-corresponding authors of this paper, and the master degree candidate Du Yuzhang and the joint-supervision doctoral candidate Hou Guofang are both first authors. Academician Chen Guoqiang and Professor Cheng Jinke also joined in this study. In addition, this research also gained help from Professor Liu Jianzhao (Zhejiang University) in the experiment of mRNA m6A quantification by LC-MS/MS.
Translated by Chen Qianqian Reviewd by Wang Bingyu