Recall Father of China's Rare Earth, Alumnus of SJTU Academician Xu Guangxian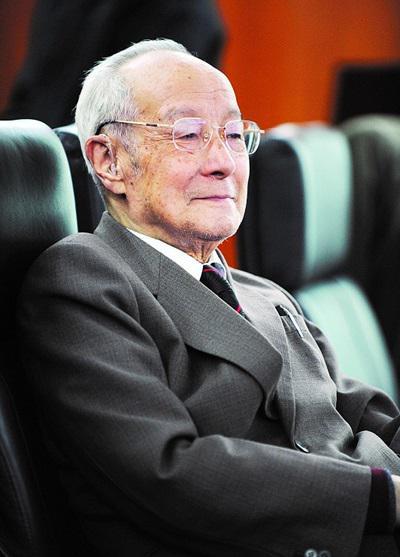 In the morning of April 28, 2015, Xu Guangxian, academician of Chinese Academy of Sciences, winner of State Highest Science and Technology Prize in 2008, Father of China Rare Earth, the class of 1944 alumnus of Shanghai Jiao Tong University (SJTU), winner of SJTU Lifetime Achievement Award for Outstanding Alumni, passed away. During his lifetime, Xu Guangxian was concerned about the development of SJTU and SJTUers. He thanked SJTU for providing solid foundation for his life and his career. In SJTU, we also have a Gunagxian Road to show our deep friendship to him.
Xu Guangxian's family was middle class. His father opened a cloth store with others, thus his family was well-off. But after his second elder brother lost 8000 yinyuan (yinyuan is an ancient currency unit) in a gambling, his family became poor. Yet his mother told them, "you need to study hard and learn an expertise. Stop relying on our family." after that, Xu Guangxian kept his mother's words in his mind and started learning.
He graduated from the primary school with distinction. To find a job as early as possible, he just read a year in the high school and then transferred to the construction department of Zhejiang University, attached Hangzhou Advanced Industrial Vocational School with a second position. He recalled, "a year later, after Hangzhou fell into enemy hands, I went to Ningbo advanced industrial school together with the school and graduated in 1939. At that time, Xukun Railway Construction Engineering Bureau came to Ningbo to recruit intern engineers. 8 of our classmates were recruited. Then we were taken to Shanghai and lived in an inn. The employer told us that he would buy tickets for us, but he never came back. He run away with all our money. We were all dumb-struck. Then we drifted apart."
After this incident, Xu Guangxian came to Shanghai alone and came to find his elder brother who was teaching in middle school. He then was introduced to be a teacher. At that time, SJTU was very famous in Jiangsu and Zhejiang provinces. He admired SJTU so much that he decided to get involved in SJTU. After several months hard-work, he completed all the exercises in Big Algebra written by Hall and Knight and Analytic geometry written by Smith and Gale. In 1940, Xu Guangxian was admitted into the department of chemistry of SJTU with excellent academic performance.
Gao Xiaoxia was classmate of Xu Guangxian in SJTU and they got married for common interests. In 1946, they passed the national students abroad examination. With relatives financial support, Xu Guangxian went to America beforehand in 1948 and studied in the department of chemistry of University of Washington. The same year, Xu Guangxian ranked the first in the summer academic probation class of Columbia University in New York, and was admitted as a graduate student majoring in quantum chemistry. At the same time, he was hired as a teaching assistant, salary received from which enabled Gao Xiaoxia to come to New York University and majored in analytical chemistry. In 1949, Xu Guangxian received Master of Science degree from Columbia University; in 1951, his doctoral dissertation "Optically Active Quantum Chemical Theory" won him the doctorate degree in physical chemistry, making him the one who received his doctorate degree within the shortest time and was selected as a member of American Sigma Xi Honor Science Club. At the same time, Gao Xiaoxia was also granted the master's degree in analytical chemistry of New York University and went for further study. At that time, Columbia University wanted to engage Xu Guangxian as a lecturer or recommend him to be a postdoctor in the University of Chicago and ask him to join in American nationality. But they learned about the earthshaking changes in new China and the explosion of war to resist US aggression and aid Korea. After discussion, the couple determined to come back to China and devote themselves into the educational business of China.
Till today, "cascade extraction" is still the theoretical basis of our rare earth industry. The Chinese storm caused by Xu Guangxian brought China hundreds of millions profits. This project won the third prize of national natural science, the National Science Conference award and the award of progress of science and technology.
---
Translated by Ling Jie Reviewed by Wang Bingyu