Professor Zhang Dabing and Liao Shijun Made "2016 Most Highly Cited Researchers" List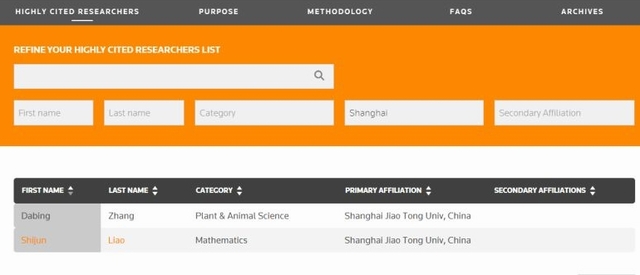 Recently, Thomson Reuters issued a list of global "Highly Cited Researchers 2016". Professor Zhang Dabing from School of Life Science and Biotechnology and Professor Liao Shijun from School of Naval Architecture , Ocean and Cilvil Engineering of Shanghai Jiaotong University(SJTU) have been named "2016 Most Highly Cited Researchers", with Professor Zhang in Botany and Zoology and Professor Liao in Mathematics.
The announced global highly cited researchers are from the disciplines and fields of materials, chemistry, mathematics, engineering,etc. There are totally 3266 named researchers among which 196 are Chinese (including researchers from Hong Kong, Macao and Taiwan regions). For the researchers, being named means international influence in related scientific field and relatively huge contribution to the development of this scientific field.
---
Translated by Zhen Mengyan Reviewed by Lu Siyu