Prof. Zhang Yafei's Group Synthesized "Nano Christmas Crystal"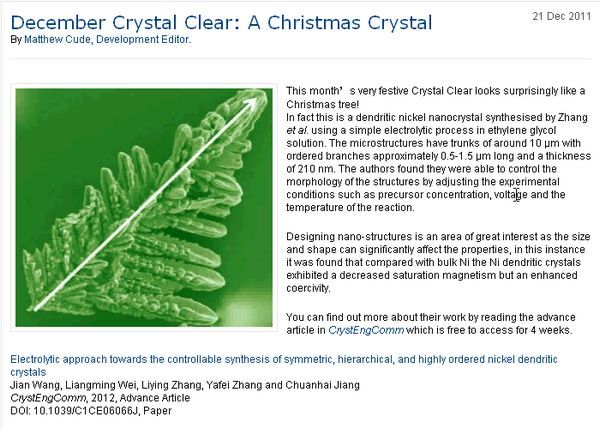 Recently a research result done by SJTU Prof. Zhang Yafei's group has been reported in CrystEngComm. Matthew Cude, Development Editor of Royal Society of Chemistry (RSC) wrote a review titled "December Crystal Clear: A Christmas Crystal" on this research:
"This month's very festive Crystal Clear looks surprisingly like a Christmas tree!
In fact this is a dendritic nickel nanocrystal synthesised by Zhang et al. using a simple electrolytic process in ethylene glycol solution. The microstructures have trunks of around 10 µm with ordered branches approximately 0.5-1.5 µm long and a thickness of 210 nm. The authors found they were able to control the morphology of the structures by adjusting the experimental conditions such as precursor concentration, voltage and the temperature of the reaction.
Designing nano-structures is an area of great interest as the size and shape can significantly affect the properties, in this instance it was found that compared with bulk Ni the Ni dendritic crystals exhibited a decreased saturation magnetism but an enhanced coercivity."
For the paper "Electrolytic approach towards the controllable synthesis of symmetric, hierarchical, and highly ordered nickel dendritic crystals" (CrystEngComm, 2012, Advance Article, DOI: 10.1039/C1CE06066J), please click here.
---
Translated by Tian Cong