Prof. Bangcheng Liu Won the First "Star of Service" Award
Recently, Professor Heather Getha-Taylor, the official publication of the International Public Human Resources Research Association and the editor of the SSCI retrieval source journal Public Personnel Management, sent the certificate of the first Service Star Award to Professor Bangcheng Liu, School of International and Public Affairs, Shanghai Jiao Tong University. Since being invited to join the editorial board of the journal in early 2013, Professor Bangcheng Liu has been actively participating in the review of journal manuscripts and planning of important topics. At the same time, he actively encourages research based on domestic public sector organizations and human resources practice and theory to use this platform to the world Spread the voice of Chinese scholars and contribute the wisdom of Chinese scholars.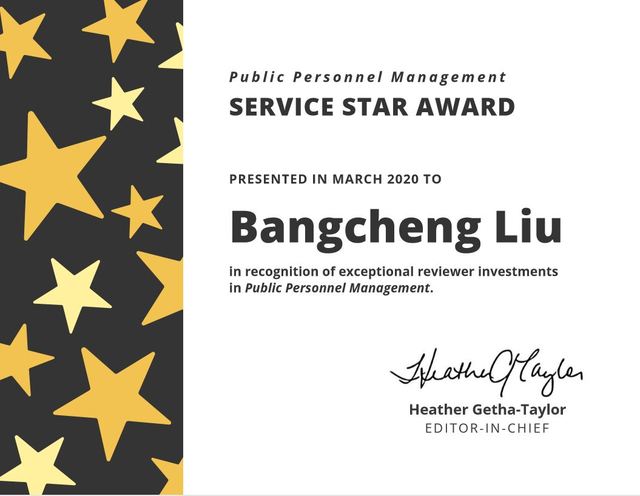 Professor Liu has long been devoted to strategic human resources and talent management, cross-cultural organizational behavior and change management, science and technology policy and innovation and entrepreneurship. He is particularly good at paying attention to important issues in the field of public management and policy from a behavior perspective, such as public service motivation and institutional reform. He has undertaken a number of research projects, published more than 100 papers in public (he has been cited more than 1,000 times in the past 5 years, and 3 papers have been selected for ESI), published 3 books, and won the third prize of excellent achievements in philosophy and social sciences of the Ministry of Education, Shanghai Second prize for outstanding achievements in philosophy and social sciences, second prize for outstanding achievements in teaching in Shanghai, etc. At present, he is also the vice president of Shanghai Administrative Management Society, the deputy editor of "Journal of Shanghai Jiaotong University" (Zheshe Edition) and the editorial board of many academic journals.