Originator of Systems Biology Professor Leroy Hood Guested on Master Forum
On June 4th, Prof. Leroy Hood, as a guest of the 104th Master Forum, gave a wonderful lecture entitled Systems-Driven 21st Century Medicine: Catalyzing a Revolution in Healthcare in the lecture hall of Shanghai Center for Systems Biomedicine (SCSB), Shanghai Jiao Tong University. Prof. Hood is an Academician of National Academy of Sciences, National Academy of Engineering, National Academy of Arts and Sciences, and National Academy of Medicine in the United States. In the meantime, he is also a winner of National Science Medal of Science and the originator of Systems Biology.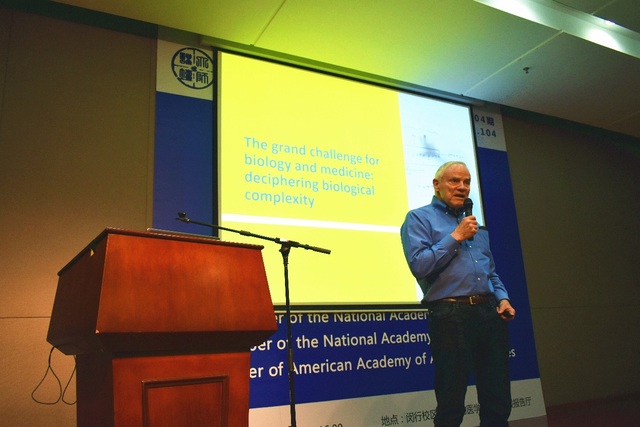 In the interactive session, Prof. Leroy Hood answered questions about the possible genetic effects of P4 medical treatment and the effective ways to develop scientific thinking. His diligent attitude, wise mindset and humorous speech left a deep impression on the audience.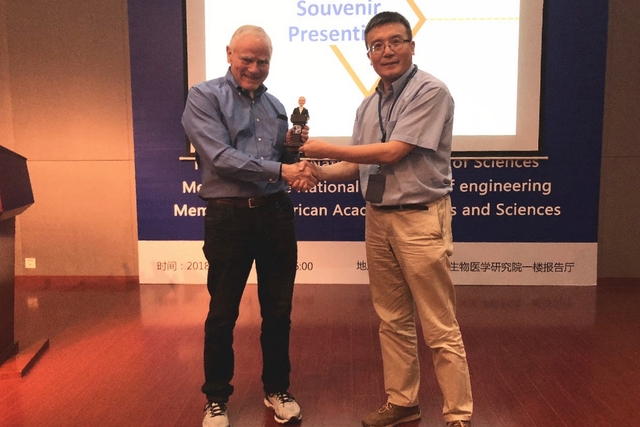 At the end of the lecture, the organizing committee of the Master Forum gave Prof. Leroy Hood an elaborate clay figure as a souvenir to express SJTU students' sincere gratitude and blessings for his visit. Upon invitation, he also left his handprints and inscriptions, and took photos with the organizing committee members of the masters' forum.
Translated by Zhu Fengyan Reviewed by Wang Bingyu