NTNU-SJTU Joint Research Seminar on Ocean Engineering and Naval Architecture was held at SJTU
Norwegian University of Science and Technology (NTNU) conducted a two-day academic activity at Shanghai Jiao Tong University (SJTU) from 19th to 20th April, 2018. Meanwhile, the "SJTU-NTNU Joint Research Center on Ocean Engineering and Naval Architecture" was established which intends to serve as a significant platform for the all-around cooperation between China and Norway in the fields of marine science and technology in future.
On April 19th, the NTNU-SJTU Joint Research Seminar on Ocean Engineering and Naval Architecture was held at room B808 in Mulan Building, Shanghai Jiao Tong University, Minhang campus. The seminar was co-sponsored by the School of Naval Architecture, Ocean and Civil Engineering (NAOCE) in SJTU and the Department of Marine Technology in NTNU. It aimed at sharing mutual research interests in the fields of ocean engineering and naval architecture and establishing a framework for further collaboration in the form of "SJTU-NTNU Joint Research Center on Ocean Engineering and Naval Architecture". Prestigious experts and scholars from multiple institutions gathered to discuss the current progress and possible future development of the particularly key issues including areas such as design and analysis of offshore floating structures, marine renewable energy and underwater vehicles.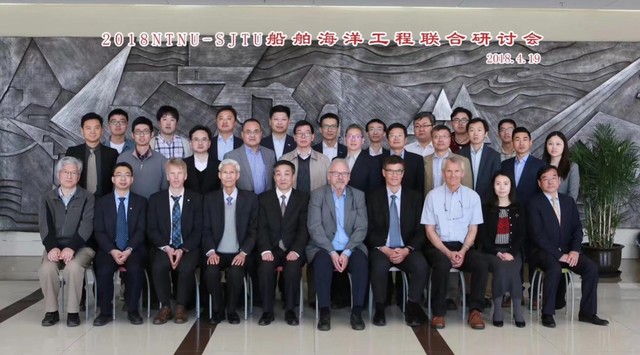 On April 20th , the opening ceremony of "Shanghai Science, Technology and Education Day" was held at SJTU. During the event, SJTU and NTNU formally signed the agreement and officially established "SJTU-NTNU Joint Research Center on Ocean Engineering and Naval Architecture" to cooperate and promote the cutting-edge scientific research and advanced facilities and resources in this field.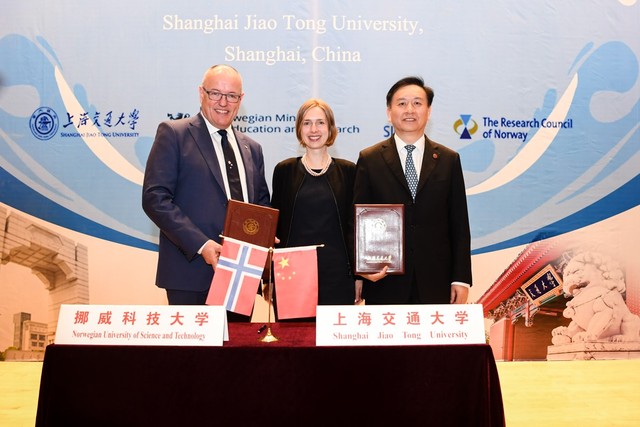 Joint Research Seminar: An Index to The Great Ideas
Prof. Jianmin Yang, Dean of the school of NAOCE, kicked off the seminar by warmly welcoming the participating scholars, experts and students on Apr. 19, 2018. He presented an overview of the research being carried out and expressed his thoughts on the developing trends at NAOCE. He put emphasis on the projects that NAOCE got involved in, such as Self-Propelled Cutter Suction Dredger "Tian Jing"; Deep Sea Observation and Sampling Type ROV "Sea Dragon" and "Sea Horse"; Semi-Submersible Platform; Full-scale Monitoring System. Then he also introduced the innovative research facilities at SJTU, including Deep water Offshore Basin, Wind Tunnel and Circulating Water Channel, Multi-functional Ship Model Towing Tank, which provided robust support to the new research scholars in the university. In the end, he mentioned the outstanding performance of the students in numerous science and technology based innovative competitions, as well as the extensive cooperation between NAOCE and other worldwide international institutions. It is expected that the cooperation with NTNU will further promote the development of China and Norway in the fields of naval and marine engineering.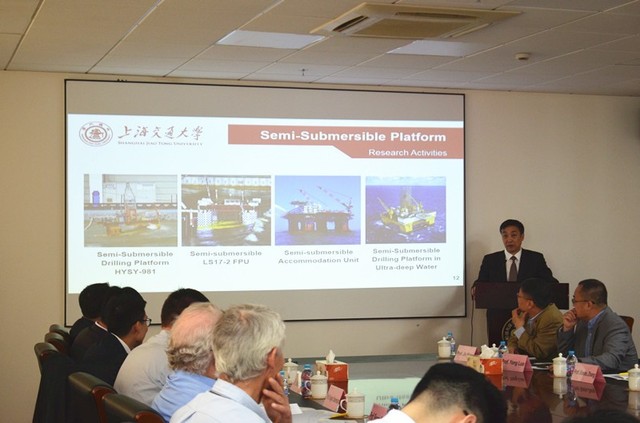 Prof. Sverre Steen, Dean of the Department of Marine Technology, NTNU, reviewed the recent research activities of the institution. He introduced the faculties, student cultivation, research facilities and major ranking of the department, and appreciated the long-term efforts paid by the Norwegian governments and research institutions in exploring and studying the ocean. He pointed out that maritime, oil and gas, fishery took up more than 70% of all the export revenues. Safer and smarter are two main goals in this industry and some new direction emerged like digital ocean space, green and smart maritime. Professor Steen appreciated their wide collaboration partners and said that effective and extensive cooperation is one of the main reason of their continuous progress in the scientific research.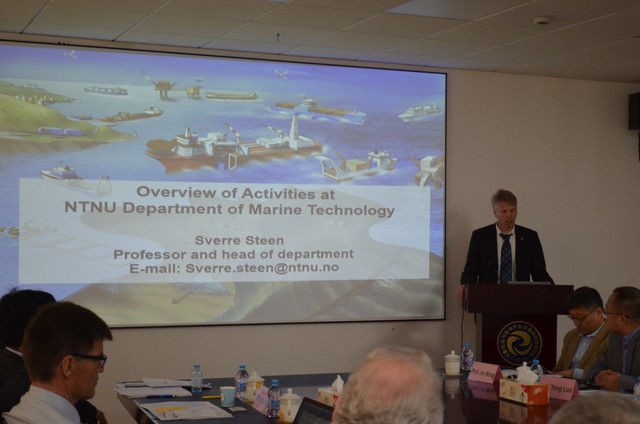 Prof. Torgeir Moan then started his presentation on "Analysis and Design of Very Large Floating". He pointed out that due to the large number of deep straits in Norway and the inconvenience of transportation caused by the tortuous coast, the Norwegian Public Roads Administration planned to build several floating tunnels under the water plane to facilitate the traffic between the north and the south. Based on the previous experiences derived from offshore platforms, very large floating structures and bridges, NTNU as the main research strength have made great progress in this project. He showed their results on investigation on the structural intensity analysis, hydrodynamic performance, environmental loads, safety and sustainability. Their research methods included numerical simulations, model tests and full-scale structure field monitoring. Today, they simulate and predict the responses and performance of floating tunnels under given sea conditions, and several projects have been proposed.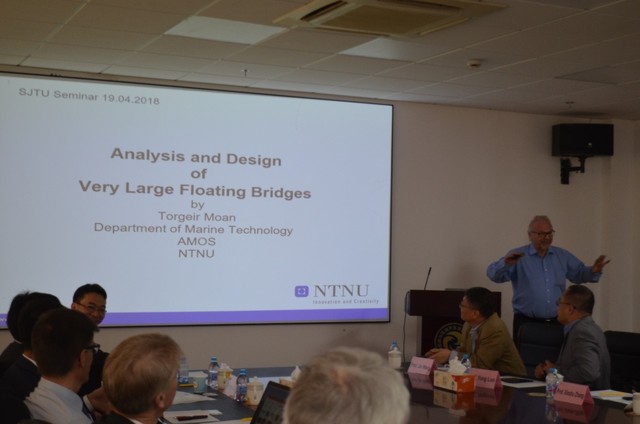 In this seminar, Prof. Asgeir Sørensen, Prof. Zhen Gao and Prof. Jørgen Amdaml from NTNU gave their worthy presentations on the topics of "underwater vehicles", "floating offshore wind turbines" and "the impact of complex coupled environment on marine structures", respectively. The research results from each presenter attracted great interests of all the teachers and students at site.
Prof. Decheng Wan kicked off the afternoon session with the topic "CFD study of Aero- and Hydro- Dynamics Coupling Performance of Floating Offshore Wind Turbines". He demonstrated a way to couple the six-freedom of waves with the simulated hydrodynamic and aerodynamic loads of a floating fan by the code they developed themselves, entitled as the "FOWT-UALM-SJTU". He then presented the results obtained through numerical simulations of some floating wind turbine systems by using this solver.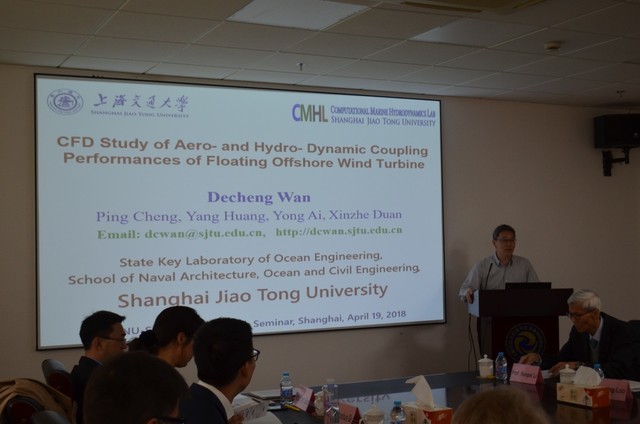 Prof. Weicheng Cui from Ocean University of China then took over with a presentation entitled: "Rainbowfish Challenging the Challenger Deep Project: Current Progress and Future Plan". Prof. Cui explained the importance and significance of the exploration of the ultra-deep sea in China. He stated that his goal now was the development of a manned submersible, "the Rainbowfish", which can explore deep seas up to 11,000-meters below water level.
Following him, Prof. Jin Wang, Prof. Shixiao Fu, Prof. Longfei Xiao, and Prof. Yong Luo from SJTU gave their presentations on the topics of "New Concept FDPSO Design", "VIV Marine Risers", "Design of Deepwater Floating Platforms" and the "Design of FPSO", respectively. There was an active session of discussion between the students and teachers after each presentation. Scholars and experts expressed their own perspectives on the topics discussed which again led to more warm discussions.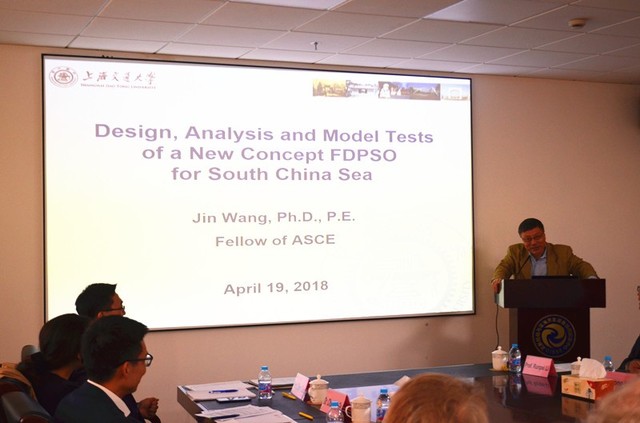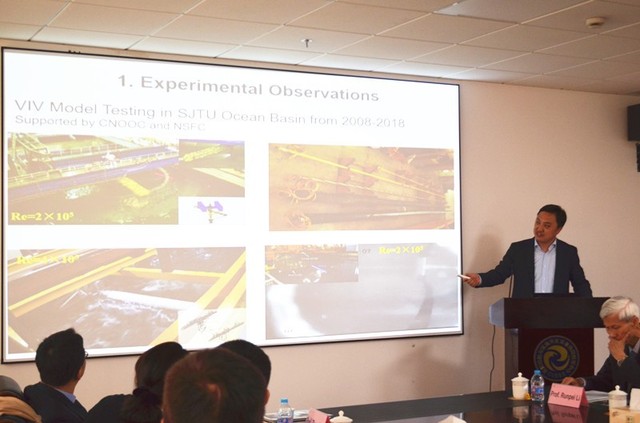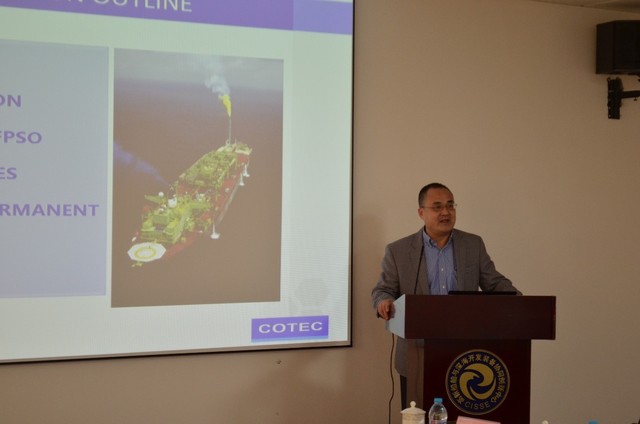 SJTU-NTNU Joint Research Center - A Top-tier Combination
Founded in 1870, NTNU possesses a remarkable academic advantage in marine science and technology. Since 2000, a frequent exchange of visits between SJTU and NTNU has been carried out in a sincere and rewarding way. It's not only beneficial to enhance the relationship of the two universities, but also to establish a long-term cooperation in the research fields of naval architecture and marine engineering.
Honorable Ms. Iselin Nybø, the minister of Norwegian Research and High Education and her delegation witnessed the signing ceremony of SJTU -NTNU Joint Research Center on 20th April, 2018. After that, Honorable Ms. Iselin Nybø visited the Deep-water Basin of the State Key Laboratory of Ocean Engineering at Shanghai Jiao Tong University and was impressed by this advanced laboratory facility and its strong research capabiities.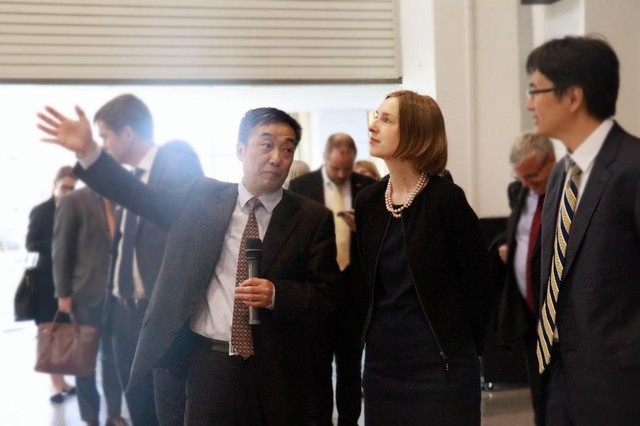 The successful establishment of "SJTU-NTNU Joint Research Center on Ocean Engineering and Naval Architecture" is a top-tier collaboration between these two universities in the world. It will serve as an active role in promoting academic exchanges, innovating new technology, cultivating outstanding talents, developing the research in the area of Ocean Engineering and Naval Architecture. By building this important platform, it links experts and scholars from NTNU and SJTU to collaborate in the development of ocean renewable energy facilities, green shipping, deep-sea mining and other frontier science and technology in future. The establishment of the Joint Research Center also promoted NAOCE on the "threshold of new chapter" of the international exchange and cooperation.
Source: School of Naval Architecture, Ocean and Civil Engineering