Nobel Laureate Gerardus 't Hooft Be the Guest in Master Distinguished Lecture
On May 25th, Prof. Gerardus 't Hooft from the Utrecht University showed up as a guest at Master Distinguished Lecture, held at the B1 Lecture Hall, Tsung-Dao Lee Library, and presented a report on How Black Holes can Change our Views on the most Basic Laws of the Gravitational Force and Matter. Prof. Gerardus 't Hooft is the Nobel Prize winner in Physics and the member of the Royal Netherlands Academy of Arts and Sciences.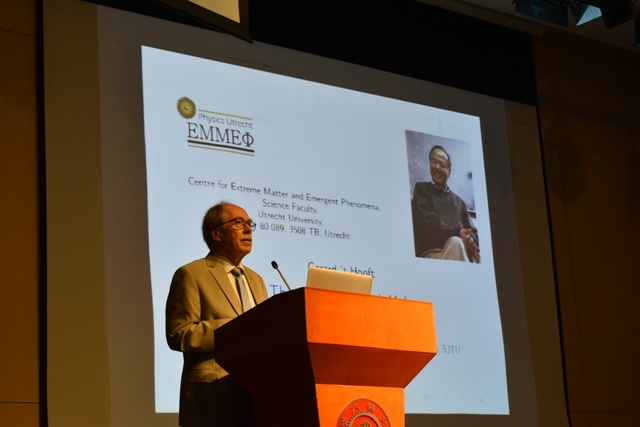 After the lecture, Prof. Gerardus 't Hooft had a deep discussion with some students on physics study, research method, interpretation of quantum mechanics, dark matter exploration and time travel.
The committee of Master Distinguished Lecture also gave a delicate clay sculpture as present to Prof. Gerardus 't Hooft, showing SJTUers' heartfelt gratitude and sincere bless. At the end, Prof. Gerardus 't Hooft was invited to leave his handprint and inscriptions and take group photos with the committee.
Translated by Huang Yiqing Reviewed by Wang Bingyu