Marine Cities-Design for China 2050
Associate Professor Lu Shaoming's Paper Embodied in the 24thUIA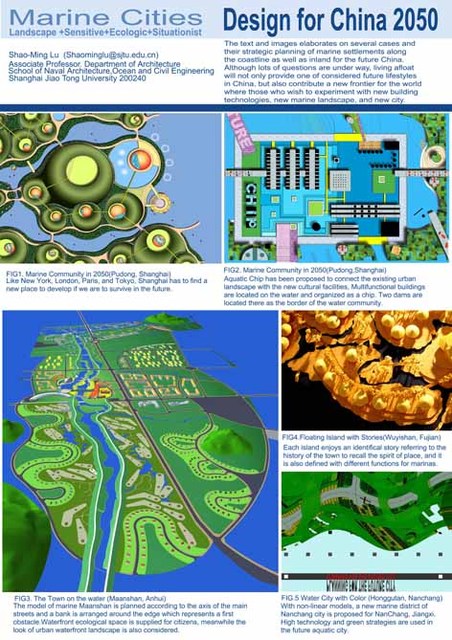 The 24th UIA World Congress of Architecture was held in Tokyo, Japan from September 24 to October 1, 2011. On the theme of "DESIGN 2050," and around sub-themes of "Environment, Culture and Life," UIA 2011 TOKYO provided all the participants with opportunities to discuss the future architecture and cities through the various programs including keynote speeches, technical sessions, international competition, workshops, exhibitions and tours. UIA 2011 TOKYO will be a touchstone for divining the architecture towards 2050 and beyond.
In the congress, works or papers of three architects and scholars from Chinese Mainland are embodied, including papers and related works of Mr. Lu Shaoming, an associate professor from SJTU School of Naval Architecture, Ocean and Civil Engineering. In his paper entitled "Marine Cities-Design for China 2050", Lu reviews the leading-edge theory of "International Marine Cities" in modern and contemporary societies, and analyzes the strategic significance and practicality of building "Marine Cities." At the same time, Lu blueprints the Chinese city life in the year of 2050 by making use of the design experiments done in Shanghai and other cities. Lu believes that the research of marine cities not only puts forward a new life-style in future cities, but also extends the frontiers of human being's new technology, new industries, new energy resources and new culture.
In future marine cities, we will need to overcome many challenges in fields that include the environment, energy, the economy, population, food, education, disaster and so on. The architectural community cannot solve these problems alone. Solutions will only be founded when all people can work together across national borders, and when the barriers of religion, ethnicity, gender, generation or industry have been removed. The World Congress of Architecture held in Japan provides a good opportunity for merging together the technological wisdom of people from everywhere to create a future vision of the world of 2050, within which we will seek out ideas for the future of cities and architecture.
Described as the "Olympics of Architecture," and held every three years, the UIA World Congress is a major international architectural event that attracts around 10,000 architects, engineers, researchers and students from more than 100 countries.
---
Translated by Zhen Yinghui | Reviewed by Tian Cong