Laval University Presidential Delegation Visits SJTU
On March 12, the President of Canadian Laval University, Sophie D'Amours, lead a delegation to pay a visit in Shanghai Jiao Tong University, exploring the opportunities for cooperation. The delegation was welcomed in Minhang Campus by Vice President Wu Dan. The meeting was also attended by teachers and personnel from International Cooperation Office, School of Electronic Information and Electrical Engineering, School of Life Sciences and Biotechnology and Institute of Oceanology.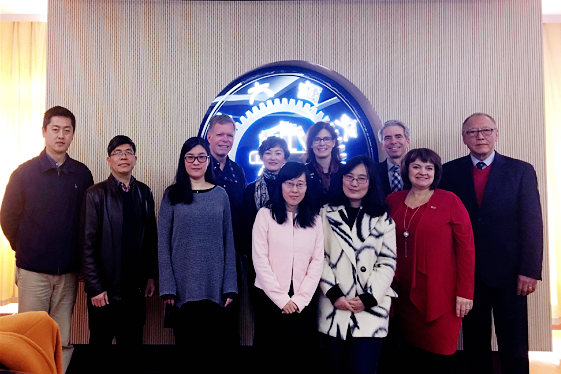 Vice President Wu Dan warmly welcomed the delegation of Laval University and expressed his hope for establishing new programs, such as student exchange and summer school, expanding the communication and cooperation between the two Universities, as well as further promoting academic collaboration in scope of marine science and engineering.
Professor Walker Smith of Marine Institute made an introduction of the Institute, which is currently building a strong team of scientists and engineers of international reputation, aiming to establish world's leadership in oceanology with the combined marine science and technology. Oceanology is also a leading discipline of Laval University, therefore substantial progress is expected in the cooperation between the two Universities.
Laval University in Canada was founded in 1663, it is the leading French-language University in North America. The University is located in Quebec and is considered to have one of the most beautiful campuses in the area. As a comprehensive institution, Laval University comes in the 7th place of Canada's national academic ranking and holds four of the eighteen Canada Excellence Research Chairs awarded nationwide. It has 18 established departments and more than forty thousand students.
Translated by Iga Kowalewska Reviewed by Wang Bingyu