ICCI's First Commencement Ceremony Held at Shanghai Tower
On the evening of March 17, the first batch of ICCI Graduates, Class of 2015, had their commencement ceremony on the 118th floor of Shanghai's highest building, i.e. the Shanghai Tower, with their families, friends and around 100 academic supervisors and industrial experts from home and abroad witnessing their glorious moments.
Meanwhile, the 2018 strategic cooperation on talent cultivation between ICCI and enterprises was initiated at the same time. Zhangjiang Culture and Creative Industry Holding Co., Ltd and sh.QQ.com under Tencent will cooperate with ICCI in establishing the cultural and creative think-tank resource platform for joint innovation on teaching and research. Himalaya FM , Cross Communication Group and Naked Group will offer ICCI assistance in areas like industry field research, student internships and talent cultivation. On the site, ICCI and Shanghai Tower together announced the plan of co-organizing two great events, the "Shanghai in Your Heart"- Global Cultural and Creative Design Competition and the "On the Top of the City"- Global AR/VR Creative Exhibition.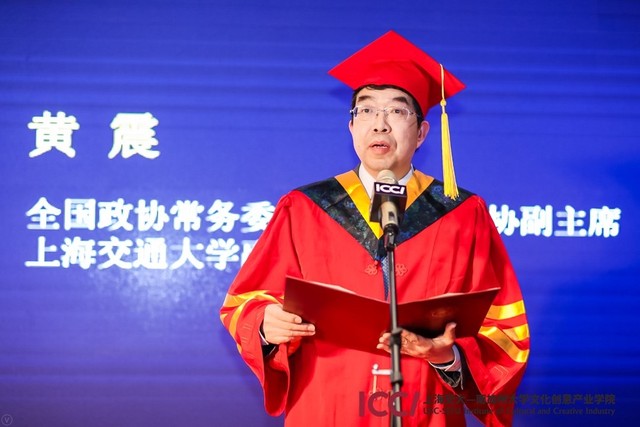 "The 2018 Graduates of ICCI were called the first batch of ICCIers when they were admitted to the institute. " said Vice President of SJTU Mr. Zeng HUANG, "They are the first intake of the Joint Master Degree Program in Cultural & Creative Industry Management that jointly developed by ICCI and USC, for whom the university and institute showed considerable solicitude and high expectations."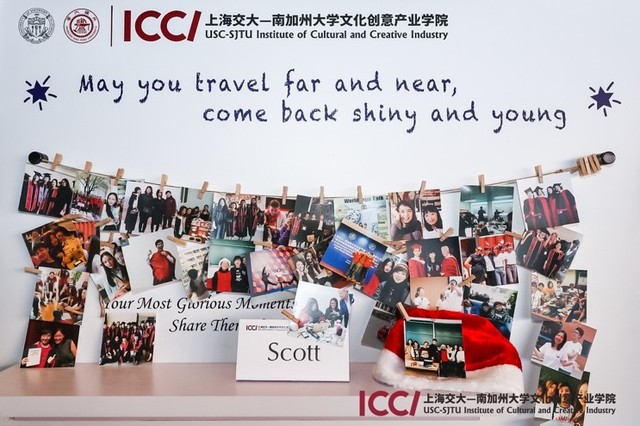 With the completion of 2.5 years' study, the first batch of 23 master students had successfully earned their graduation and SJTU's master degree in Journalism and Communication. Among them, 18 students had been admitted to USC Marshall School of Business and awarded the master degree in Management Studies. During their time in USC, ICCI students got the honor of being on the "Dean's List" for 14 person-time.
Ms. Demei YANG, the Deputy District Mayor of Minhang District, said, "Since its foundation till today, ICCI has built an influential cultural and creative education platform relying on its unique methodology of international teaching and industrial cooperation. The first batch of ICCIers are standing on the giant's shoulder. We believe that we could expect great achievements from them. "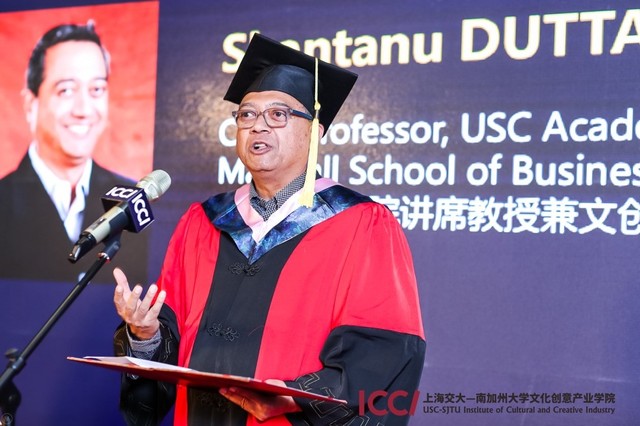 USC Prof. Shantanu Dutta spoke highly of the graduates, "They have remarkable innovative spirit and entrepreneurship, as well as a deep understanding of the entire value chain of cultural and creative industry, which could help them adapt to the global environment of business operation. "
On the commencement ceremony, the representatives of the supervisor group that mentored these graduates offered graduates their parting advice, which filled everyone present with lots of emotions. ICCI upholds the education philosophy of "internationalization, inter-discipline and industry-orientation", and initiates the supervisor group system which invites professors from various disciplines, entrepreneurs in the cultural and creative industry, and foreign scholars with both academic and industrial backgrounds, providing students with abundant learning and research resources.
The research focuses of graduates covered multiple areas of cultural and creative industries, such as entertainment, game, Internet+, finance, museum, real estate, film, music, intellectual property, etc. Under the guidance of supervisor groups, all the graduates had passed their thesis defense.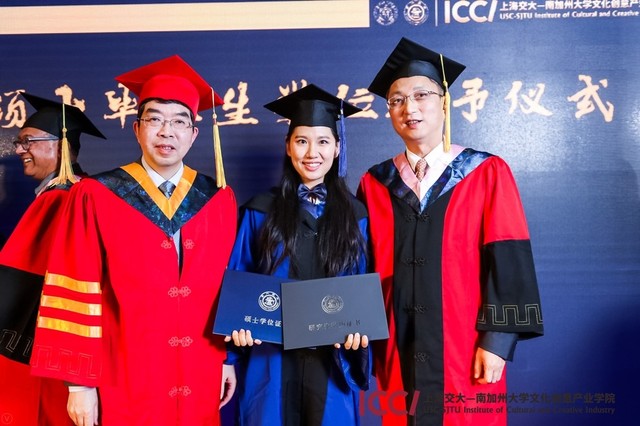 Since the establishment of ICCI 3 years ago, over 40 leading enterprises in the cultural and creative industry have signed cooperative agreement with ICCI as education and development partners and 32 founders or senior executives of cultural and creative companies took part in the teaching practice as industrial supervisors. ICCI and its industrial collaborators also set up experimental research bases successively including ICCI-SHRNT Joint Research Centre (Think Tank) of Suzhou Future Film Town, SJTU-GDI VR Creative Education Innovation Centre, SJTU-SHENDI Imagineering Lab, etc.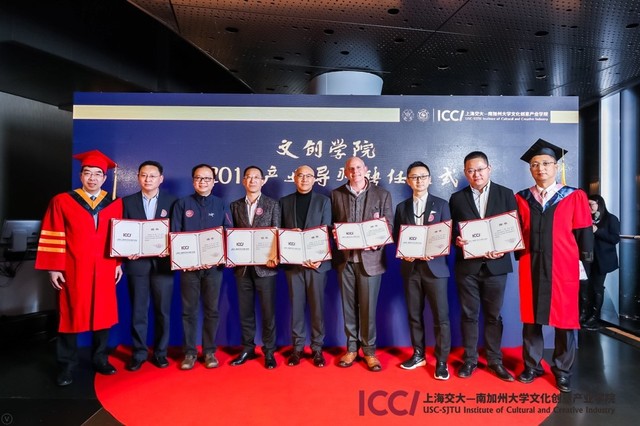 On the ceremony, the institute issued certificates for the newly recruited industrial supervisors, which consist of leading entrepreneurs of cultural and creative industries in Shanghai, mainstay of renounced international companies, and icons of global entertainment industry. They will offer deeper and more comprehensive industry-oriented mindset to ICCI students.
There were around 70 founders and senior executives present as the guests in the ceremony. They were much pleased to have seen the graduates' achievements. They have more or less been a part of ICCI's special course - Industry Field Research, which requires students to build connections with one particular enterprise each class and write a research report after thorough surveys.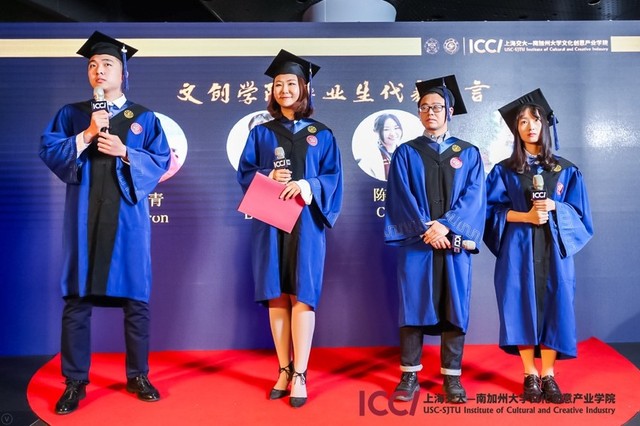 The representative of graduates Hanqing ZHAO said, "My academic practical learning experience in ICCI has unexpected opened the door for me to the quantitative analysis research that based on computer technology, and seeded the mindset of cross-discipline, humanistic sentiments and business innovation spirit in me. These are all profound treasures for my future development. "
Among the first batch of 23 ICCI graduates in total, 1 student will continue for his doctoral study in SJTU, and the rest 22 have started their career in Internet companies such as Tencent, Alibaba, JD, Meituan, Didi; financial and consulting companies such as Export-Import Bank of China, China Merchants Bank, PwC; real estate companies like Country Garden, Evergreen; cultural and creative industry companies such as Headlines Today, Zhejiang Daily, Migu Music, NetEase, Perfect World, Shanghai Film Group, Huace Film, Fengyuzhu Exhibition with average salaries much higher than other students of liberal arts.
Ms. Siman CHEN was one of the graduates, who gave up the job offer in the U.S. in pursuit of her dream in cultural and creative industry and joined Beijing Jetavana Entertainment Co. Ltd. working in film and television project investment and management. Company managers highly appreciated her professionalism and appraised that ICCI students have broad international visions, versatile knowledge backgrounds, great leadership in work, innovative minds and entrepreneurship spirit.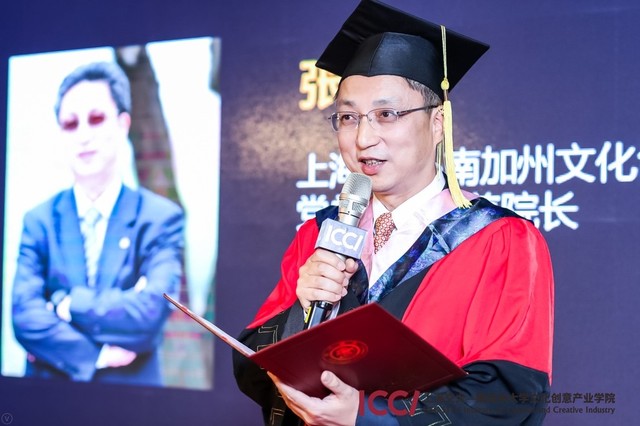 ICCI Dean ZHANG was very much delighted to have witnessed the fruits of ICCI's talent cultivation philosophy. He said to all graduates that," We have nurtured ICCI spirit in us, molded ICCI culture together, which could be summarized as sincere, professional, innovative. I hope you can remember your identity as SJTU's ICCIers forever, and fly high and free without forgetting why you started.
After the commencement ceremony, a new round of strategic cooperation on talent cultivation between ICCI and enterprises in 2018 was officially initiated.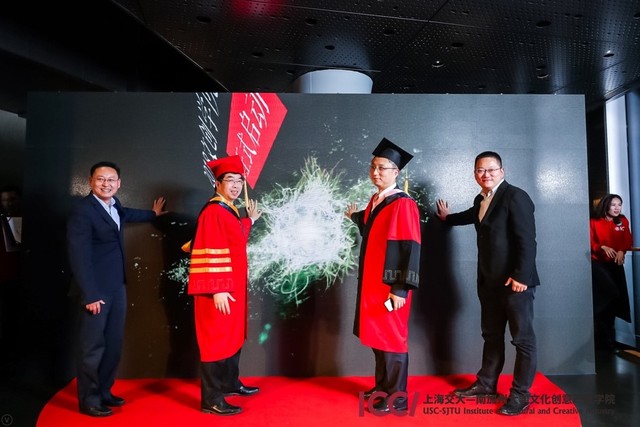 ICCI signed cooperation agreements with Zhangjiang Culture and Creative Industry Holding Co., Ltd to build a think-tank platform for industrial development, talent cultivation and research. ICCI will collaborate with sh.QQ.com under Tencent for co-research in the development of cultural and creative industry on internet. Other newly signed partners for student internships include Himalaya FM , Cross Communication Group and Naked Group, etc.
To facilitate the cultural and creative industry boom in Shanghai, this year, ICCI will also work with Shanghai Tower in organizing the "Shanghai in Your Heart"- Global Cultural and Creative Design Competition, which invites all university/college students to submit their cultural and creative design that reflects Shanghai's image and spirit. Meanwhile, the "On the Top of the City"- Global AR/VR Creative Exhibition was planned as well, which will gather global VR/AR creative products for exhibition in Shanghai's highest landmark.
Source: USC-SJTU Institute of Cultural and Creative Industry