Collaborative Study of SJTU School of Medicine & Ruijin Hospital Published in Cell Metabolism
On Feb. 18, the research findings of a collaborative study by two research groups, respectively led by Researcher Chen Xuejin at SJTU Departent of Laboratory Animal Science SJTU and Prof. Li Xiaoying at Endocrine and Metabolic Diseases Research Institute of Ruijin Hospital, was published online in the world-leading academic journal Cell Metabolism, a Cell series journal.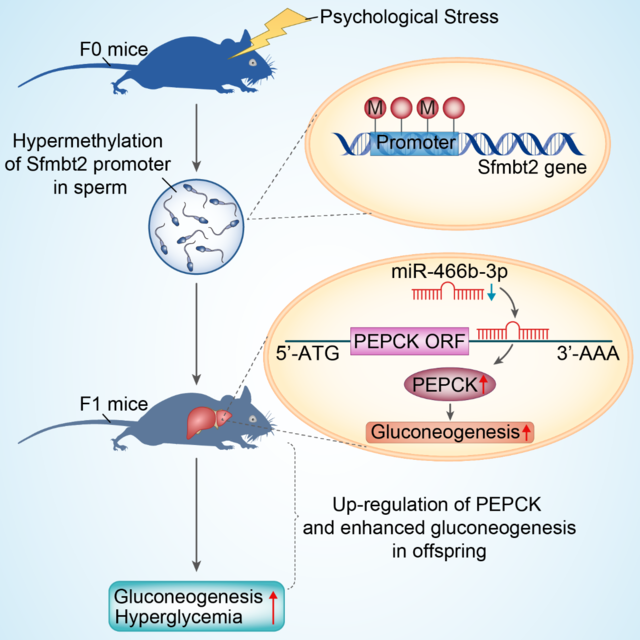 The research paper Paternal Psychological Stress Reprograms Hepatic Gluconeogenesis in Offspring was accomplished independently by scientific researchers in School of Medicine at home. Researcher Chen Xuejin's doctor student Wu Lin is the first author of the paper, Doctor Lu Yan and Doctor Jiao Yang at Endocrine and Metabolic Diseases Research Institute of Ruijin Hospital are co-first authors.
The research is the first to show that father's psychological stress will adjust and control offspring's glycometabolism through epigenetics and other mechanisms. A more interesting finding is that the intergeneration produced from father to his offspring is found in many animal models in recent years. For example, after mice father is treated by high fat and low protein diet, the expression of glycometabolism and related genes in offspring's islet and liver will be affected, which would furthermore impact glucolipid metabolism homeostasis in mice offspring. Therefore, this study furthermore proves the intergeneration mediated by environment factor. Besides, the research group of Researcher Chen Xuejin makes a long-term commitment to the study on reproduction and embryonic development, while the project group of Professor Li Xiaoying is skilled at the study on the pathophysiological mechanism of glucolipid metabolism. In this research, both sides make the best of their strong points in cooperation, thus making a significant progress in this field. The work is also funded by 973 Program initiated by Ministry of Science and Technology and National Science Foundation of China.
Related reading:
http://www.cell.com/cell-metabolism/fulltext/S1550-4131(16)30006-7
https://www.sciencedaily.com/releases/2016/02/160218132241.htm
http://economictimes.indiatimes.com/magazines/panache/attention-fathers-your-stress-can-put-your-child-at-high-diabetes-risk/articleshow/51054698.cms
---
Translated by Wang Jiayu Reviewed by Wang Bingyu