China's First 1500M Heavy Duty Work Class ROV Developed by SJTU Accepted
On November 24, 2015, China's first set of 1500M heavy duty work class remotely operated underwater vehicle (ROV), which was developed independently by the Institute of Oceanology of SJTU, passed the quality examination in Shanghai. The meeting for the quality examination was hosted by Zhu Xiaohuan, general manager of Science and Technology Information Department at Offshore Oil Engineering Co., Ltd. Wu Dan, Vice President of SJTU attended the meeting.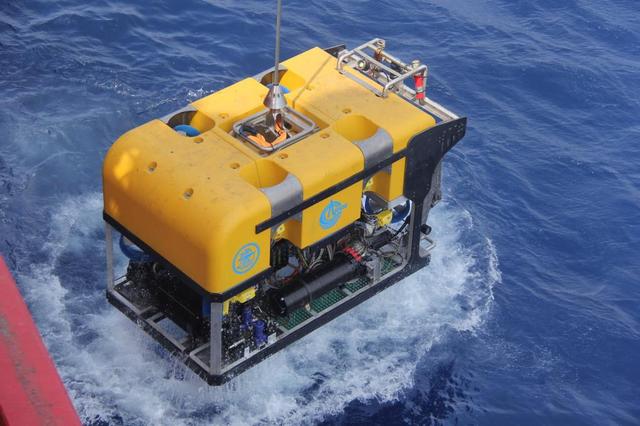 The successful development of the heavy duty work class ROV with a working depth of 1500 meters has helped to add a new member to the family of China's self-developed ROVs, which represented another enormous stride in the field of research and development of submersibles after the ROV "Seahorse" with a working depth of 4500 meters was put into application.
This system was the research achievement of a task titled "Heavy Duty Work Class ROVs and Working Systems Exclusively Developed for Deepwater Oil Engineering Maintenance". The task was initiated by the research team led by Professor Lian Lian in August, 2012 and was included in the National Science and Technology Major Projects of China's Twelfth Five-year Plan. This research purpose of this system differed from that of the ROV "Seahorse" in that this system, with a working depth of 1500 meters and strong working capacity. The system was designed for the exclusive use of deep-water oil engineering maintenance so as to provide emergency maintenance and repairs for underwater devices in the deep-water oil and gas field in South China Sea. This system was noted for its capacity at the working depth of no more than 1500 meters in installation, connection and maintenance of underwater devices and prefabrication of jumper tubes. It was expected that this system would help to establish and enhance China's independent capability in underwater delivery and working systems, which would better serve the exploitation of the oil and gas in South China Sea and provide guarantees for security in production in marine oil and gas fields. Furthermore, it was hoped that this system would help to promote the industrialization of the heavy duty work class ROVs and the working systems for deep-water oil engineering maintenance.
In the future, Professor Lian and her research team would work on the self-developed heavy duty work class ROV with a working depth of 3000 meters and ROVs for inspection and maintenance of submarine conduits so as to further enhance China's autonomous R & D capabilities.
---
Translated byZhao Bingquan Reviewed by Wang Bingyu