China 9-Russell Group Roud Table Discussion and Signing Ceremony was Held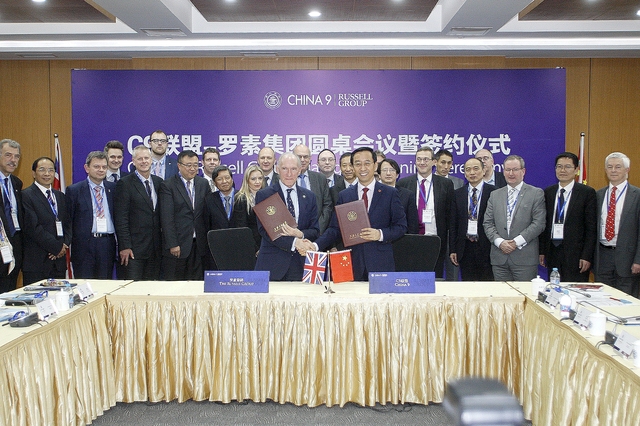 On Oct 31th, Prof. Sir David Greenaway, Chairman of Russell Group and Vice-Chancellor of University of Nottingham, led a delegation to Shanghai, and jointly organized with Shanghai Jiao Tong University(SJTU) the "China 9- Russell Group Round Table Discussion" and issued "Joint China 9-Russell Group Statement".
John Edwards, British Consul-General of Shanghai, Dr Wendy Piatt, Director General of Russell Group, Amanda Wolthuizen, Head of Communictaions of Russell Group, David Greenaway, Stuart Croft, Vice-Chancellor of University of Warwick, Anton Muscatelli, Vice-Chancellor of University of Glasgow, Sir David Eastwood, Vice-Chancellor of University of Birmingham, Koen Lamberts, Vice-Chancellor of University of York, Patrick Johnson, Vice-Chancellor of Queen's University of Belfast, Colin Riordan, Vice-Chancellor of Cardiff University, Dame Jessica Corner, Pro-Vice-Chancellor of University of Nottingham, Hai-Sui Yu, Pro-Vice-Chancellor of University of Leeds, Edmund Burke, Vice-Principal of Queen Mary University London, Tim Gallagher, Dean of Faculty of Science of University of Bristol, Ian Postlethwaite, Dean&CEO of NUIS of Newcastle University, Kerry Brown, Director of Lau China Institute of King's College London, Zhang Jie, President of SJTU, Zhou Yu, President of Harbin Institute of Technology, Wu Zhaohui, President of Zhejiang University, Wang Shuguo, President of Xi'an Jiaotong University, Yang Bin, Vice President of Tsinghua Univesrity ,Yuan Zhenghong, Vice President of Fudan University, Pu Lijie, Associate Vice President of Nanjing University, as well as experts and scholars from both sides attended and witnessed this significant moment.
In Keynote session, Zhang Jie made the speech about "Leading the Future: Russell Group and C9 Partnership" and David Greenaway talked about "Developments for Russell Group and C9 Universities". In round table discussion, representatives of C9 and Russell Group talked about "creating excellence" and "collaboration and innovation between China9 and Russell Group". John Edwards attended the round table discussion and witnessed the signing ceremony of joint China 9- Russell Group statement.
The Russell Group is a self-selected association of 24 public research universities in the United Kingdom, while China 9 consists of top 9 universities in mainland Chna, the cooperation of these two international top level university groups is full of expectations.
---
Translated by Lu Siyu