Author Profile Column of the Angewandte Chemie Introduced SJTU Professor Li Xinhao's Work
The Angewandte Chemie is maintaining its leading position among the General Chemistry journals. Its Author Profile column focuses on outstanding scientists who have published over 10 original papers on the journal within 10 consecutive years. Li Xinhao, Professor of School of Chemistry and Chemical Engineering (SCCE) of SJTU, has published 10 high-level academic papers on the Angewandte Chemie. Thereby, his academic work was introduced online in the Author Profile column on January 14th, 2019.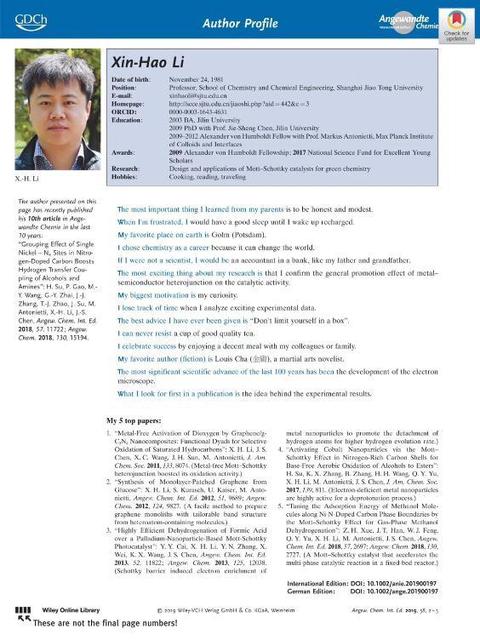 Li Xinhao, Professor and Doctoral Supervisor of SCCE, SJTU, is the group leader of International Partnership Group of SJTU-Max Planck Institute and a beneficiary of National Science Fund for Excellent Young Scholars. In addition, Prof. Li was also listed in Shanghai Rising-Star Program and was appointed as Distinguished Professor of Eastern Scholar at Shanghai Higher Education Learning.
In recent years, Professor Li Xinhao has mainly focused on the research of two-dimensional carbon-nitride materials and metal/carbon-nitride Mott-Schottky catalysts in organic catalysis (Angew. Chem. Int. Ed. 2018, 57, 15194; Angew. Chem. Int. Ed. 2018, 57, 2697; Angew. Chem. Int. Ed. 2018, 57, 14857; J. Am. Chem. Soc. doi: 10.1021/jacs.8b08267; J. Am. Chem. Soc. 2017, 139, 811; Angew. Chem. Int. Ed. 2016, 55, 9178), photocatalysis (Angew. Chem. Int. Ed. 2013, 52, 11822), and electrocatalysis (Angew. Chem. Int. Ed. 2018, 57, 12563; Adv. Energy Mater. 2017, 7, 1602355; Angew. Chem. Int. Ed. 2014, 53, 6905). By studying the electronic layout of the interface, Prof. Li proposed the mechanism of action to enhance the catalytic activity of metal particles (Chem. Soc. Rev. 2013, 42, 6593).
Translated by Zhu Fengyan Reviewed by Wang Bingyu