When:
18:30, November 13, 2017
~
21:00, November 13, 2017
Aimed at becoming one of the world's leading universities, Shanghai Jiao Tong University, one of the top universities in China, is undertaking an ambitious faculty recruitment program, aimed at attracting faculty members at all levels, including both senior academic leaders and promising young researchers. Salary and start-up packages are competitive among the peer institutions in China, and at the international level in specific cases. Candidates will be considered at all ranks, and in all major fields of liberal art, social sciences, natural and engineering sciences. Endowed Chair Professorships or Distinguished Professorships are available to senior scientists with well-established academic credentials and reputations. Other senior and junior professorships are open to candidates with exceptional research records or potential.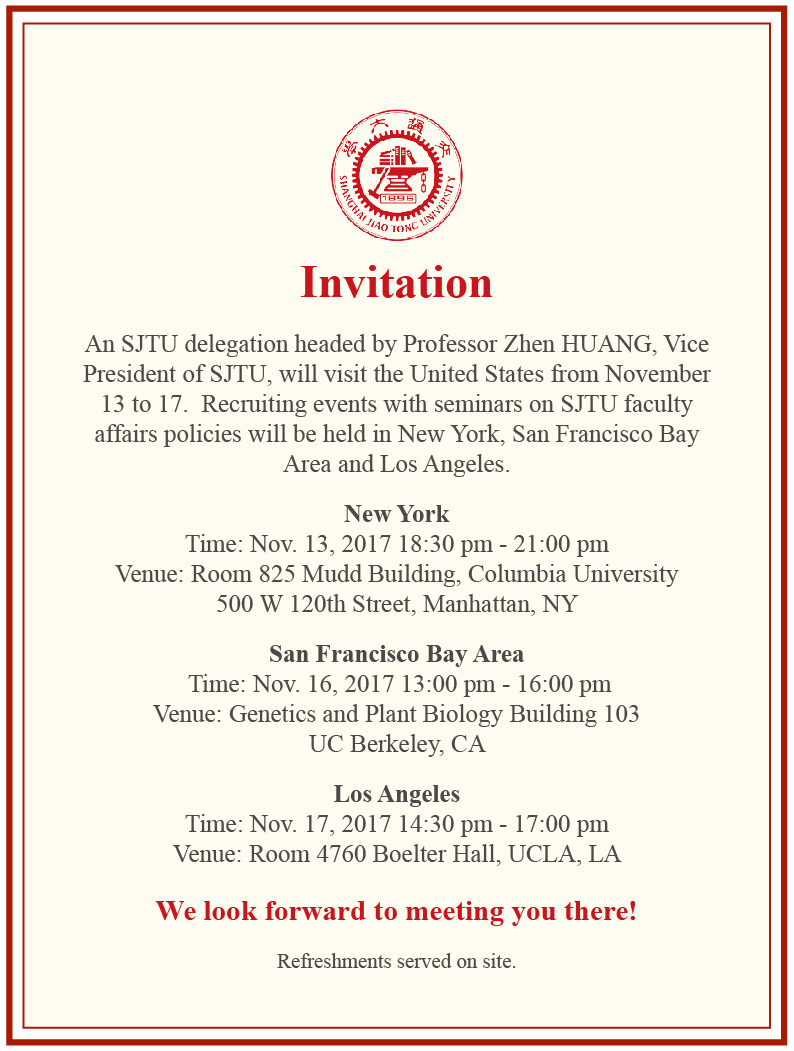 One Thousand Talents Program
-Youth Program-

SJTU will provide assistance in applying Thousand Talents Program and offer competitive salary and start-up packages for the winners.
Application Requirements
(1) Applicants should be under the age of 40 and majoring in fields of Natural Science or Engineering Technology.
(2) Applicants should hold doctorate of world-class universities and have over 3 consecutive years' academic work experience in renowned institutions overseas, carry out innovative research in academic foreland, acquire important achievements, display strong academic potentials and reach the level of Assistant Professors in world-class universities. For those outstanding scholars who have obtained a doctorate overseas, the requirement on overseas work experience could be reduced.
Compensation Package and Support
(1) The annual salary is no less than 350,000 RMB.
(2) Housing benefits of 1.5 million RMB (including allowance from the National and Shanghai Municipal Governments) will be provided. Fully furnished Teachers Apartment is available at preferential rent.
(3) Special quotas for recruiting doctoral students will be provided.
(4) Apart from the appropriation of research fund from the national government, a minimum of 1:1 counterpart discipline construction fund will be provided by SJTU; laboratories and research assistant will be provided in accordance with the discipline and work demand.
(5) SJTU will provide social insurance or transact commercial insurance, and provide housing accumulation funds for talents in accordance with the relevant National and Shanghai municipal policies.
(6) Relying on the rich medical resources of 13 affiliated hospitals, SJTU will provide good medical care for talents. SJTU will also help with job arrangements for the spouse as well as talents' children's entrance into SJTU affiliated kindergarten, primary school and secondary school.
How to Apply
Applicants are welcomed to submit the applications to the corresponding contacts of relevant schools or to the School HR Department (detailed contact information attached below). Application materials include: CV, Publication List, no less than 5 representative publications and copies of degree certificates.
Contacts
Miss Chang, Tel: 86-21-34206724, E-mail: ccy@sjtu.edu.cn
Miss Wang, Tel: 86-21-34206724, Email: wjsophie@sjtu.edu.cn
Open Positions
Positions of tenure-track faculty member and PI are open at the following schools and institutes. Please inquiry the contact person for further information.
SJTU OVERVIEW
Shanghai Jiao Tong University (SJTU) which enjoys a long history and a world-renowned reputation in China, is a key university directly under the administration of the Chinese Ministry of Education (MOE) and co-constructed by MOE and Shanghai Municipal Government. Through 121 years' unremitting efforts, SJTU has become a comprehensive, research-oriented, and internationalized top university in China.
By December 2016, SJTU has had 28 schools/departments, 21 research institutions, 13 affiliated hospitals, 2 affiliated medical research institute with 16,195 undergraduates and 30,270 postgraduates (14,374 master degree candidates and 6,719 doctorate degree candidates),2,401 overseas students. The university faculty includes 2,835 full-time teachers, among which there are 22 members of Chinese Academy of Sciences, 24 members of Chinese Academy of Engineering, 1 selected in "Thousand Talents Top Program", 105 selected in "Thousand Talents Program",143 chosen in "Young Talents Program", 140 Distinguished Professors and Chair Professors of "Cheung Kong Scholar Program", 8 Cheung Kong Youth Scholar, 123 winners of China National Funds for Distinguished Young Scientists, 35 Chief Scientists of the Major State Basic Research Development Program of China (973 Program), 14 Chief Scientists of the State Key Scientific Research Program, 14 Innovation Research Groups, National Natural Science Foundation of China and 20 Innovation Teams, MOE.
Today SJTU has 64 undergraduate programs covering 9 major disciplines: economics, law, literature, science, engineering, agriculture, medicine, management and arts. Up to now SJTU has 38 first-level disciplines authorized to offer doctorate degree covering 8 fields: economics, law, literature, science, engineering, agriculture, medicine and management; 56 first-level disciplines authorized to offer master degree covering all the 12 discipline fields; 3 disciplines authorized to offer professional doctorate degree; 23 disciplines authorized to offer professional master degree; 35 postdoctoral research station.
SJTU enjoys an increasingly high scientific research level and technology innovation level. Up to 2016, SJTU led the country for the 7th consecutive year in terms of both the project number and the amount of money issued by National Natural Science Foundation of China. The number of SCI included papers in terms of the Article, and Review hit a historical high with the total number of 6,027. Among them, international outstanding paper reaches 2,497. The total number of domestic SCI-cited papers reaches 26,749, ranking the first in China. 2,414 papers were regarded as "doing-a-good-job" papers, ranking the third in China. In 10 years, SCI-cited papers have reached 39,913 and 366,612 times, continue to maintain the second in China. 705 International Conference Papers, ranking second in China. 1 was elected as "2015 Chinese most influential 100 international academic papers".
With profound cultural background, an age-old tradition on education, strenuous development history, and great achievements made since the reform and opening up, SJTU has attracted wide attention both inside and outside China. Carrying the mission of preserving cultural heritage, and seeking for the truth, bearing the responsibility of invigorating the Chinese nation and developing for the benefits of mankind, today this centennial university is sailing for the aim of becoming a comprehensive, research-oriented and internationalized world-class university.
For more information about SJTU, please visit www.sjtu.edu.cn.