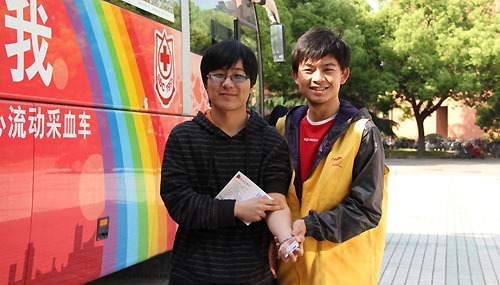 Founded in 1999 under the administration of the Chinese Red Cross Society and officially recruited its first group of members in September, 2000, SJTU RCY continuously devotes itself into the contribution to public service as a role model among SJTU student associations.
---
Programs
First Aid Training
The first aid training is a biannual activity organized by SJTU RCY, which aims at popularizing the knowledge and skills of first aid on campus and strengthen students' awareness of self-protection and ability to provide help in emergencies
Volunteer Service for Blood Drive
The activity takes place every two months each year, aiming at providing help for both student blood donators and blood centers.
Volunteer Service off Campus
The SJTU RCY has formed a long-term cooperative relationship with Minhang Blood Management Office and Minhang Blood Center. Two members are sent out monthly to participate in the activities by the Blood Center.
World AIDS Day Campaign
Every December 1, "Prevent AIDS & Keep Promise" AIDS Day Campaign will be held in the Big Circuit near the second canteen.
Blood Components Giving
The activity takes place once or twice a year.