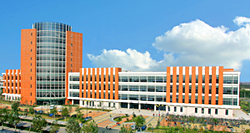 The Shanghai Jiao Tong University (SJTU) Library, from its humble origin as a small reading room built in 1896 upon the establishment of the Nan Yang Public School, is now one of the most venerable university libraries in China today. The SJTU Library system has come a long way since the construction of the first university library building in 1919. Laters additions included the Pao Sui-Loong Library on the Xuhui campus (October 1985), the Pao Yue-Kong Library on the Minhang campus (October 1992), and the Main Library on the Minhang campus (September 2008). The School of Agriculture Library from the Qibao campus became a member of SJTU Library system in September 1999, as did the School of Medicine Library from the Luwan campus, in June 2005.
SJTU Library has been committed to fostering innovation, practice and academic excellence, since its founding over a century ago. Over the years, SJTU Library has made great progress and achievements. SJTU Library system, with a total area of 63,700m2, currently comprises a number of branches covering a wide range of fields on natural and social science and technology. Affiliated libraries and reading rooms are housed in different schools and departments. Equipped with rich resources and state of the art facilities, SJTU Library is now boasts an open and integrated service system that facilitates and promotes research initiatives in all areas.
Following its time-honored tradition of having the readers' best interests at heart while providing top quality services, the SJTU Library pursues the service idea of "Accessible study resources with integrated information infrastructure; Extended reference services for departments and research groups; Better library services supported by new technologies and research programs." This facilitates its integrated and personalized services and enhances information literacy education. The functionalities of the library include holding, information retrieval and document delivery. The SJTU Library system plays an active role of a knowledge exchange and dissemination network with a focus on facilitating academic research and carrying forward the university's cultural heritage.
A member of IFLA, the SJTU Library is also the Southeast Regional Center of CALIS, the Secretariat of the Steering Committee for the Academic Libraries of Shanghai, the Administration Center of the Shanghai Education Network Library and a branch of the Shanghai Central Library. SJTU Library is also the center for science and technology updates accredited by both the Ministry of Education and the Shanghai Science and Technology Commission. As the first of its kind in China, SJTU Library runs a "Library, Information Science and Archive-management" masters degree program.